… Why would I, an expert with 10 years' experience who's worked at Google and Yandex, need to prepare a résumé? I just need to jot down my personal experience on a napkin to have hundreds of companies lining up to hire me…
"You know, this applicant's really promising. But there's something odd about his résumé—the paper's too soft. Let's look at the other candidates…"
That's what it boils down to. Despite your experience and reputation, every recruiter ultimately assesses applicants based on their résumé.
That means your résumé has got to look a million dollars. And it will do after you've read this article – the MOST detailed guide on how to prepare a résumé.
Chapter 1. 5 Tips For Writing Your Résumé
Tip № 1: Résumé structure – what should it include?
So, let's get started! The following are the main requirements:
Logical and coherent

Easy-to-read font

Key accomplishments

One to two pages in length

Relevant information only
On average, an HR manager spends 6-9 seconds viewing a résumé. They first study the document's overall appearance and then move on to the most interesting parts. So, their first focus is on the brief information and eye-catching figures. Next, they'll zero in on the positions held and companies worked at, as well as key skills. Not much attention is paid to the "Hobbies" and "About Me" sections, and the "Contacts" section is viewed right at the end.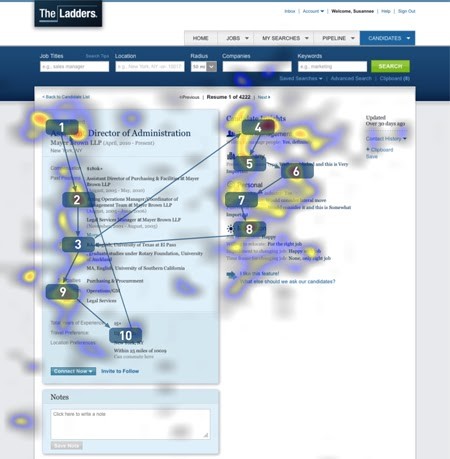 Résumé structure: What should it include?
A résumé includes mandatory and optional sections. We list them below and will go through each in detail later.
Mandatory:
Header: Name, contacts, desired position (goal)

Brief summary

Experience (If you don't have any, see here:

related article

)

Education

Professional Skills
Optional:
Courses, awards, certifications

Personal qualities

Work preferences and "About Me" information
The order in which you present your information depends on:
(a) its importance: the most important information should come first (for example, if you are an experienced candidate, write first about your work experience, then about education; while if you are young and proactive, do the opposite).
(b) your chosen template design (see more about this below).
Example of résumé structure in the СV2you Designer: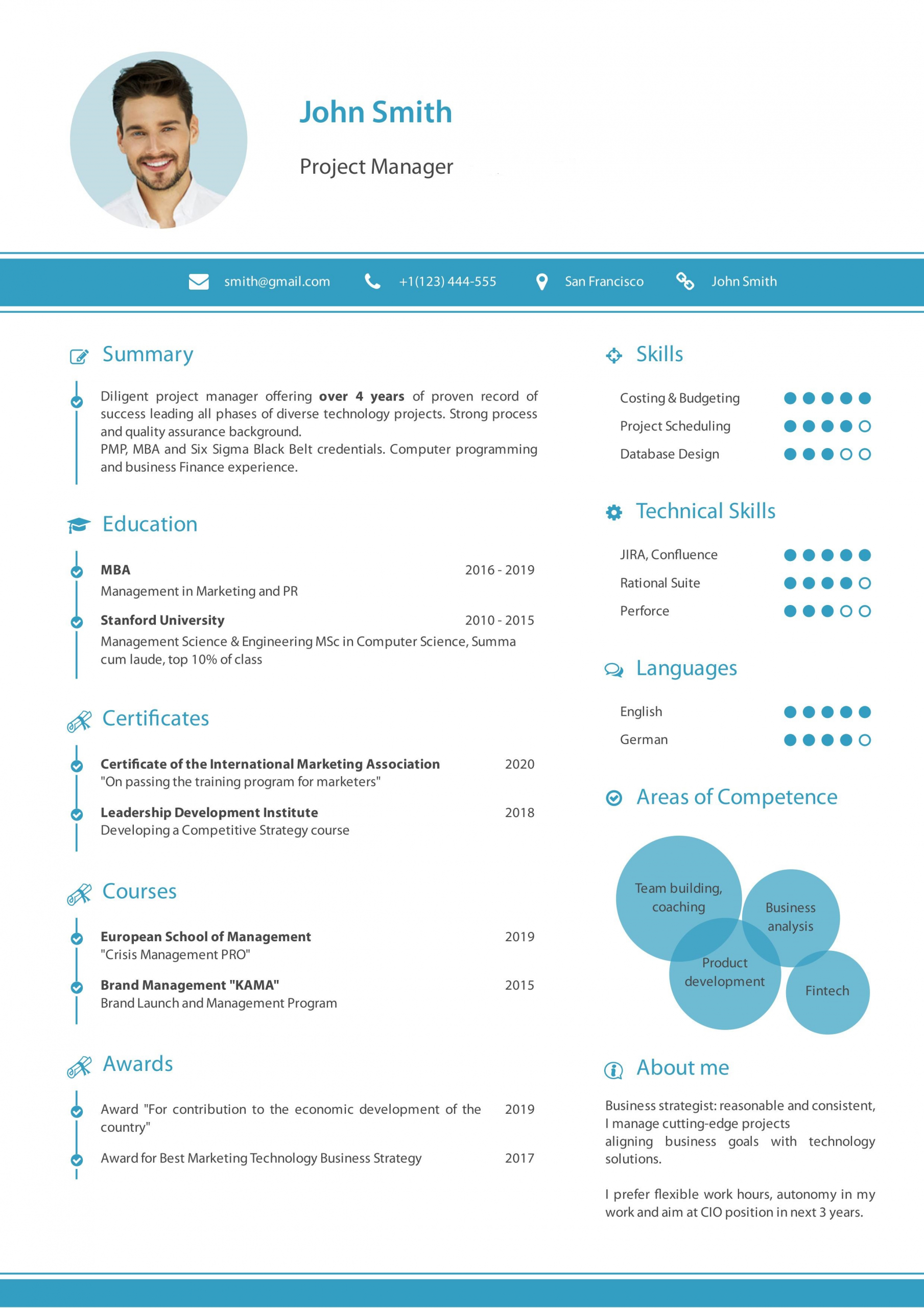 Tip № 2: How to write a résumé: design and style
There are 3 standards when it comes to designing a résumé correctly. The choice depends on the candidate's experience and goals.
The chronological format is perfect for applicants with any experience. Information is arranged chronologically, from the most recent to the earliest experience. Most recruiters like this format.
A functional résumé is a good choice if you've had a significant break in your work experience or lack the experience required for the particular job. This format helps to focus on your personal skills, so they should be listed right after the information section.
A blended format includes features from both of the above types of résumé. The main focus here is on the candidate's professional and soft skills, as well as education and work experience.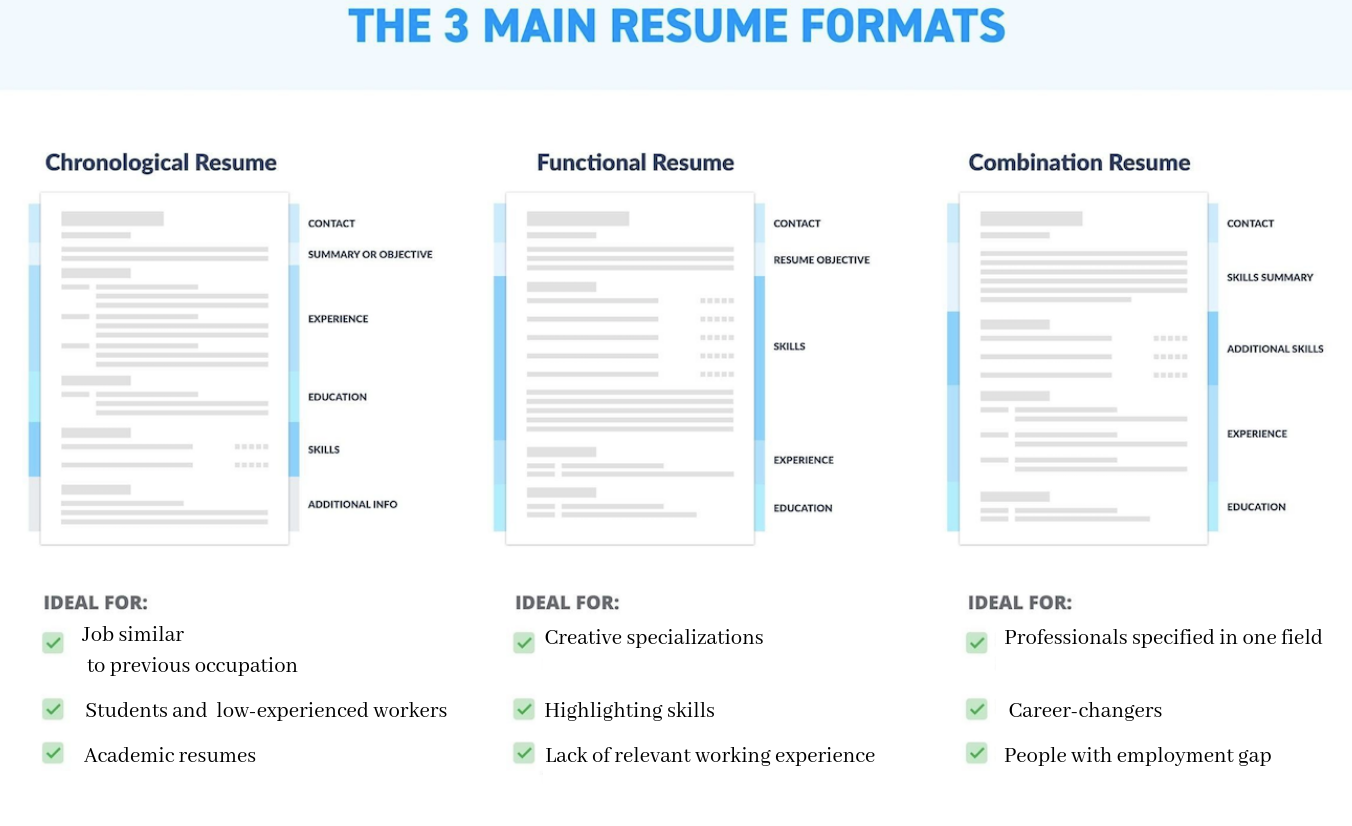 Regardless of the format you choose, add bullet points to list skills / responsibilities / key achievements:
such information

is guaranteed to be

eye-catching!
Examples of résumé styles
The style of your résumé is crucial in terms of your image and work ethic. Let it work for you, not against you. Below we are going to cover the main styles, which you can use simply by clicking on the link for each template.
Classic résumé (Basic template 403 )
Best for: Line managers, administrative staff
Features: Simple, concise, precise
Fields: Any profession
Résumé + infographics (Smart template 403 )
Best for: Sales managers
Features: Memorable, reveals candidate's skills, manages reputation
Fields: Communications and PR, sales
Professional résumé (corporate) (Professional template 403)
Best for: Chief executive, lawyer, banker, auditor, general manager
Features: Less bright in presentation, emphasis on work experience
Fields: Wherever a rigorous approach to business is required
Minimalistic résumé (at CV2you Simple template 403)
Best for: Professionals with up to 3 years' experience
Features: Minimalist and large amounts of space
Fields: Any
Tip № 3: How to write a résumé: margins, fonts, layout
A standard résumé design has margins of 0.5 – 1 cm at the left and right sides of the document, plus 2 cm at the top and bottom. Use centered alignment for text, and left alignment for lists and headings.
"Classic formatting — résumés with Times New Roman or Arial fonts are very helpful when reading lengthy résumés from experienced candidates."

~Riley Koontz, HR at HubSpot
It is best to set font size at 11-14 pt – it is easily recognized by ATS and is also easy to read. If you need to add a heading, such as a section title, it should be 2 pt larger than the main text.
Tip: Avoid the CAPS LOCK key when typing. If you want to emphasize keywords, use italics or bold. Also, remember that underlined text is difficult to read, so it's best not to use it at all.
The best fonts for résumés are legible, enjoyable to read and not overly flashy. Here are the TOP 10 according to the international portal Monster: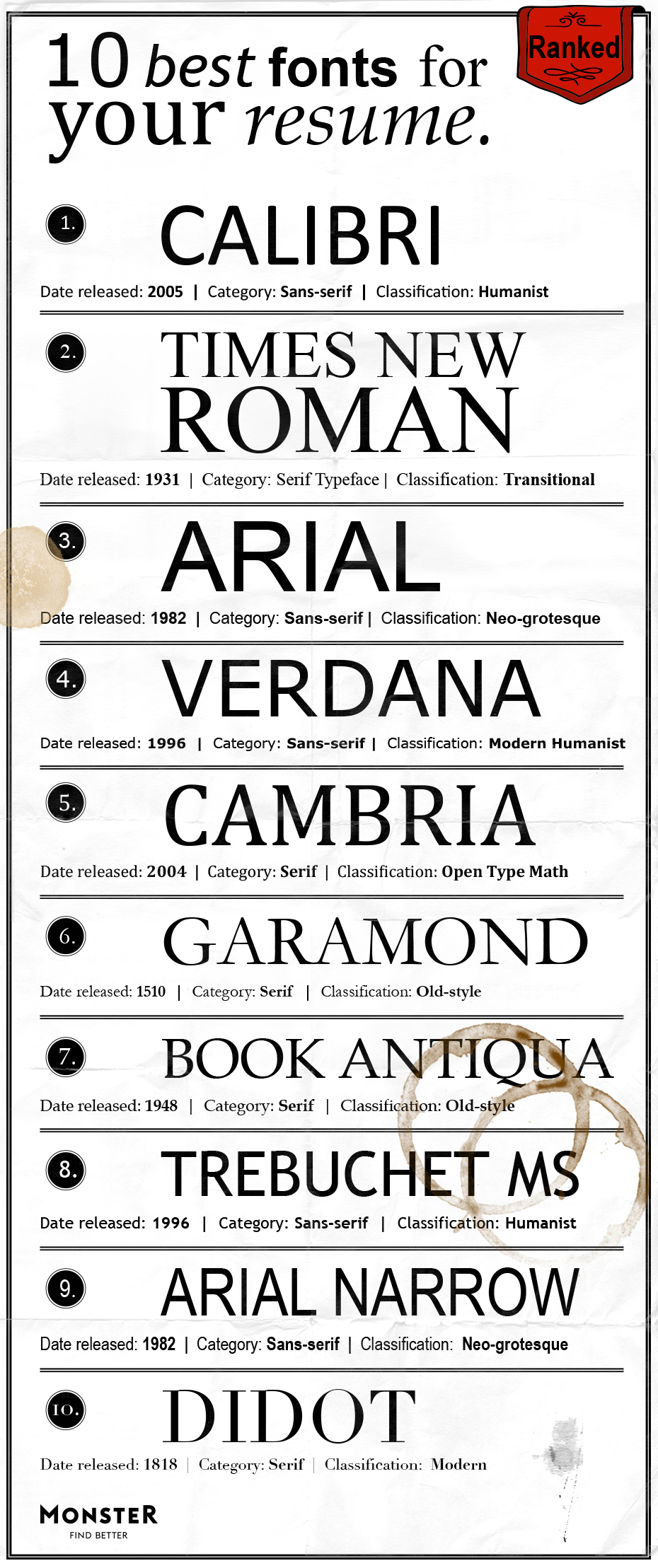 Our designers also thought about this issue, did a little research and selected the 6 best fonts for the CV2you Designer: 4 with serifs and 2 without.
Fonts for résumé

With serifs

Without serifs

Cambria

Garamond

Minion Pro

Myriad Pro

Helvetica

Roboto
Tip: For smaller text, it is better to choose a sans-serif font: Helvetica, Roboto, Calibri, Arial (on a computer monitor, serifs look too small and can be tiring on the eyes).
The main color is best black, but headings can be highlighted, for example in blue. Those in creative professions are free to use green and other nice tones. The main thing is not to add more than three font colors in one résumé, and it is also better to avoid neon and difficult-to-read shades.
Right:
Black, with the secondary color — blue.
Better not to use:
pink, yellow
Tip № 4: How to write a résumé: length
While some job seekers struggle to find enough information to fill a full-page résumé, others have the opposite problem—too much text. Here's the perfect correlation between résumé length and content:
One-page

résumé — for entry-level and mid-level professionals. Everything fits and nothing is superfluous.



Two-page

résumé — yes, only if you have a lot of experience (5+ years) and a wide range of relevant(!) skills, and really can't pare down the information without leaving a gap in your experience.

Three-page

résumé — too tedious in a world where even 50-word posts are not read to the end. In fact, if you are such a seasoned elder, break down the last 10 years. As for the distant years of work for Stalin and the Party, just fit it all in one line.
In one of his interviews Laszlo Bock, HR at Google, talked about how résumés are rejected due to design. More than 20,000 candidates have passed through him during his career, and here are a couple of observations he shared:
"A proven approach: write one page for every 10 years of work. No one's going to read a three- or four-page résumé. In fact, presenting your experience in this way demonstrates your ability to synthesize and isolate the superfluous in a data set.
Unless you're applying for a designer or artist position, focus only on ensuring the document is concise and readable, with a font of at least 10."
Tip № 5: How to prepare a résumé for ATS
There is a very good chance (9/10 in large companies according to research) that, at the first stage, your résumé will not be read by a human, but by an ATS robot.
Tip: Applicant tracking system is a system that analyzes résumés and initial screening of candidates based on keywords that match the job description. It is therefore highly recommended to tailor your résumé to the vacancy by checking that it contains the right professional terms and keywords.
Just like all machines, the ATS robot has imperfections. For example, it does not recognize images well, so saving in .jpeg format may not be recognized at all. Infographics and text in the form of columns or tables can read in the wrong order. To see how your résumé will get to the recruiter through ATS, copy your résumé into a Word document: this is most likely how it will be displayed.
With regard to the file format, generally, the most appropriate format is PDF (it's recognized by most ATS). Not Word, since, due to the different versions, text/images may be shifted around and not displayed in the way you intended. If you're already working in Word, then choose PDF when clicking "Save As."
We've arrived at the end of the general tips. Next, we'll look at the preparation of each individual section of your résumé. In the meantime, let's look at an overview:
How to Write a Quality Résumé
Define your true value.

These are advantages and strengths, differentiators from competitors. Be concise, focused, and include figures to convey it to the recruiter.

Include relevant and truthful experience.

Choose the right focus that encourages you to keep reading. Use keywords from the job description, and avoid clichés.

Exceed expectations.

You can "drop a hint" for the interview by mentioning interesting facts from your experience, but leave the details for personal communication.

Use a template.

Don't waste time reinventing the wheel. Use ready-made templates: there are even Word formats. And of course, choose them on our website :).
Mistakes when writing a résumé:
Grammatical, stylistic mistakes and typos

– the most common problem with résumés. Although these are pretty easy to solve: just give it to your friends or acquaintances to check.

Too much information:

detailed descriptions and unnecessary facts. One page is perfect. Two – "I'm a very experienced candidate." Three – "I don't know how to focus on the main points."

Flashy design

, too out-of-the-box design – also a no-no. A résumé is a means of showing your value, not a party invitation.

Inappropriate humor

. In most situations, stick to a formal presentation.
More related articles:
Résumé structure: length, font and design
Chapter 2. How to create a resume: resume sections.
Header: contacts, position, photo, goals
The information you add to your résumé can make or break your entire job-search efforts. So, what do you need to include in terms of improve your chances of getting that job?
It all starts with contact information. Your name, address, phone number and email should be at the top of your résumé. At first glance, this seems like an easy, though important, formality.
But did you know that some employers use the contact information section to screen undesirable candidates? They may refer your candidacy to colleagues if you live in another part of the country. Or they may form a negative opinion of you if the "Contact Information" section is not prepared well.
So, what should you include to get your résumé noticed?
Make sure to include in the résumé header:
Full Name (middle name only if you are an older applicant).
City of Residence: no need to write the exact address; it's unlikely the employer will invite her/himself round for tea.
Email address: only your official one – no "sausage19".
Phone number: make sure that the number is linked to a messenger
International messengers (optional): Skype, WhatsApp.
Social networks (optional): Facebook, LinkedIn, Twitter. ⅔ of applicants are checked on social media during the hiring process. So, you can make this easier for them (and at the same time for yourself) by checking your public image and hiding those photos from the foam party!
No need to specify:
Your marital status, nationality (in many countries, recruiters are prohibited by law from requesting this information).
Tip: Other links. The CV2you Designer has a link icon if you want to link to another contact (or document/image). Enter your text and then use the link icon in the black bar at the top to add your link.
An example of the contact section in the CV2you Basic template:

CV2you designer uses contact icons to save space on your résumé. You don't need to write every name in full.
Just click on any icon and select the type of contact from the suggested list. Use the + Add button to add any number of contacts.

Make sure that all contacts are spelled correctly and that phone numbers are indicated in international format. If you are applying with a printed résumé, there is no point in adding links. Provide them upon request.
Your résumé photo
This is included at your discretion. In Europe, most employers expect to see your photo on your résumé. In the US and UK, however, including a photo is not required and is even prohibited by law in many states (to avoid discrimination). In any case, if you want to add a photo to your résumé, make sure it matches your area of expertise and work ethic. Avoid photos of you in your home environment or in a "looking for love" style.
Tip: The first impression made by your résumé must be perfect! Better still, use a professional photographer.
Right:
Choose high-quality photos taken in a studio and retouched. The photo style should be appropriate for your field of work.
Wrong:
Angled selfies, or photos that make you look aloof or unfriendly.
———————————————————–
Brief Summary
The "Summary" section of the résumé is where you present yourself and state your desired position or specific goal. This information is usually placed at the top of your résumé, next to your name and contacts. You only have a few seconds to get the recruiter's attention and show why you are the ideal candidate for the job.
Let's look at what information is best to include in the first section of your résumé, and what examples would not be good.
Desired position|
Some hiring managers argue that the "desired position" section is not good for your résumé. That's a fair point, especially when the candidate writes, "Getting a job as an economist." After all, it's obvious that he wants the job.
Instead, try tying the desired position to your experience or goals.
Right:
"Looking for a Human Resources Manager position with the prospect of promotion to Regional Manager within a year."
Wrong:
"I'm a journalist, a sommelier, and a bitcoin broker."
"I'll consider all options; it doesn't matter."
According to indeed.com, the US job and employment website,
"…a section with brief, job-specific information makes it more likely that a recruiter will want to know more about your candidacy after reading your résumé."
Career goal
This section on your résumé is not mandatory, but it gives you extra points in the hiring process. There are some instances where including a goal is especially helpful:
You're new to the job market.
You're changing career – the goal will help explain why you are the right person for the job).
You're moving to another city – by indicating your plans in your résumé goal, you can avoid being filtered by place of residence.
The most effective goal is one that aligns with the employer's interests. Here, it is important to demonstrate your value as a professional and the benefit you will bring to the company.
How do I make my goal clear?
Translate your achievements into numerical form (numbers, percentages, period of time); for example, "Increased ROI in advertising by 15% in three months."
Move on to the results you hope to achieve in the future (with the interests of the company you are applying to in mind).
There are as many companies as there are goals. Edit the first section every time you send your résumé to a new employer.
Reread the job posting: Which of your skills are most applicable to the desired position?
Tip: Use a technique called "elevator pitch." If you had only 30 seconds in an elevator, what would you tell a potential employer about yourself?
Examples of a "Summary" section on a résumé:
"IT manager with 8 years of experience in web development. Managed 5 projects simultaneously, all of which showed a profit of 1.5 times or more. I have a technical background in web development (HTML, JS)".
"Account manager in corporate software. Focusing on the financial sector. Four years' experience. Managed sales growth in 11 projects. Best account manager 2020. Recently received Corporate Governance certification from INSEAD."
5 simple tips for the first section:
Fill out the summary section last. It's much easier to write about yourself in the summary section when the rest of your résumé is ready.
Choose the most impressive facts from your career history. It is enough to remember about 3-4 achievements. Write about them at the top of your résumé. Be sure to use numbers, facts, statistics.
Experience in the summary section. For experienced applicants, professional responsibilities are a deciding factor. Indicate the number of years of work experience.
Create a section that is relevant to the position. Job descriptions usually contain keywords that recruiters are looking for. Use these words to describe your skills and experience.
Summarize. Imagine yourself in the shoes of a tough recruiter. Carefully reread the summary section. Why should they hire you?
What should not be written in the summary?
Wrong:
"I'm a student"; "Looking for any job"; "Open to offers"; "Position doesn't matter."
Always be specific about the purpose of your job search. If you have recently graduated, state the purpose of your job search as an assistant, trainee, or intern.
Also, you should not list every position that appeals to you. A résumé with the title "Sales Manager, Assistant Manager, Promoter, Store Employee" suggests that the job seeker has not yet decided which job he or she wants.
Wrong:
"Looking for an interesting project with a high salary and opportunity for career advancement" is a format that will evoke nothing but negativity, even from the most patient recruiters.
Common mistakes
There are several common mistakes job seekers can make:
1) Using the same goal for each summary
Wrong:
To get a job in … a field that challenges and allows me to use my education, skills and past experience in a way that is mutually beneficial to both me and my employer, as well as for future growth and development.
Your goal is to be the perfect candidate, which means you're exactly what the hiring manager is looking for… and unless you're sending a résumé to the only cookie factory in town, then we guarantee you 100% that one résumé does not fit all.
Next!
2) All about me
This is a trap that many job seekers fall into because they can't resist making a list of all the things they want from the position.
Wrong:
Hi, I'm John, I'm looking for a job, and I really want to work for a company where I can make a lot of money while doing as little as possible. Oh, and an office with a view of the sea. A company car would work, too. Before you go, let's talk about benefits, retirement … and company-leave policies.
Yes, this may be exaggerated, but remember, even in a more toned-down version, this type of approach looks as ridiculous to a hiring manager as this overblown example.
3) Too vague
Mistake number three is ambiguity. As mentioned earlier, one résumé format does not fit all, so being ambiguous in the hope of partially matching what employers are looking for will result in your résumé being filed directly in the trash can.
Wrong:
Looking for a full-time, long-term job where I can apply my extensive skills and knowledge to the position I was hired for.
After reading this statement, what we know is that the applicant has skills and knowledge … and that's it. What kind of skills does he (or she) have? Do they really fit the position? And what knowledge can the candidate apply that will benefit the company? See what we mean?
Next.
4) On… and on… and on… and on… And zzzzzzzzzzzzzzzz….
Mistake number four is making it too long. A résumé is not a novel. It's a little self-promotion to get attention, to get you invited for an interview … That's when you can give more details!
Let's not give an example here. Why? Because it will be so long that anyone who reads it will get bored and move on to the next section.
5) Adding absolutely no value
Mistake number five is probably the worst … and the easiest to make (except for mistake number two, the "all about me" statement). Mistake number five is writing a section of your résumé that fills the main space but says nothing about the value you bring to the company. This mistake is often in the form of an overly vague statement…
Wrong:
To obtain a position in my chosen field where I can use my skills as a hardworking, well-educated employee in exchange for a steady market salary.
More examples and tips in this article: Summary, Position, and Goals on your résumé
———————————————————–
Education
This section is easy for most applicants. They simply write the name of the university, department, and year of graduation.
In fact, there are many pitfalls here:
perhaps you are still studying

you have an incomplete education

you're writing your dissertation

you've dropped out of graduate school
And so on.
There are many examples; the key is to understand what in your education is or is not important in terms of the job you are applying for.
Tip: While different job levels call for different levels of detail, in general try to limit the education section to between 15-30 words.
There are many options for where and how to write about education on a résumé.
The "Education" section of your résumé looks like this:
Educational institution

Year of graduation

Grade point average

Academic degree

Coursework and graduate work

Student or extracurricular activities
Seems simple, doesn't it? But let's see how many nuances there are in each of these points:
Educational institution: Very often applicants write an abbreviation, the meaning of which is not clear to the employer. Write all names in full.
A grade point average or diploma defense grade is mentioned only if it is higher than average.
Academic degrees are written in full – no abbreviations. Not everyone knows what a KMN is.
Coursework and dissertations are only mentioned if they are relevant to the position. Save your résumé space!
Education on your résumé: before or after Experience?
As a rule, practical experience is more important than theory. Therefore, job seekers tend to write about their professional achievements at the top. And this is correct (for experienced candidates).
But there are cases where diplomas are more important, and they should be written about immediately.
Put the "Education" section before the "Work Experience" section if:
you have recently graduated, and you have no or minimal work experience;

you are getting a second higher education, or are in training because you have decided to change your field of work;

you have recently upgraded your qualifications (like an MBA).
If you are an experienced job seeker with at least 2 years of work experience, the "Experience and Skills" section of your résumé should come before the "Education" section. Read more about the "Experience" section below.
Categories of education levels and examples for résumés:
High School:

(high school graduate, high school student, incomplete high school education)

Secondary vocational education:

(college student, technical school graduate)

Higher education:

(student, bachelor, specialist, master, incomplete higher education)

Postgraduate higher education

: postgraduate (candidate of sciences), doctorate (doctor of sciences), internship, residency, etc.
Next, let's look at each form of education with examples on your résumé.
Education on résumé: High school
A résumé may be needed by a high school student in two cases:
If he plans to continue his education and must provide a portfolio.

If he is looking for a job that can be combined with his studies.
A high school résumé differs in content: it usually records school accomplishments and achievements, and less work experience. Include volunteer work, information about additional education, awards, and areas of study.
Sample résumé (secondary education)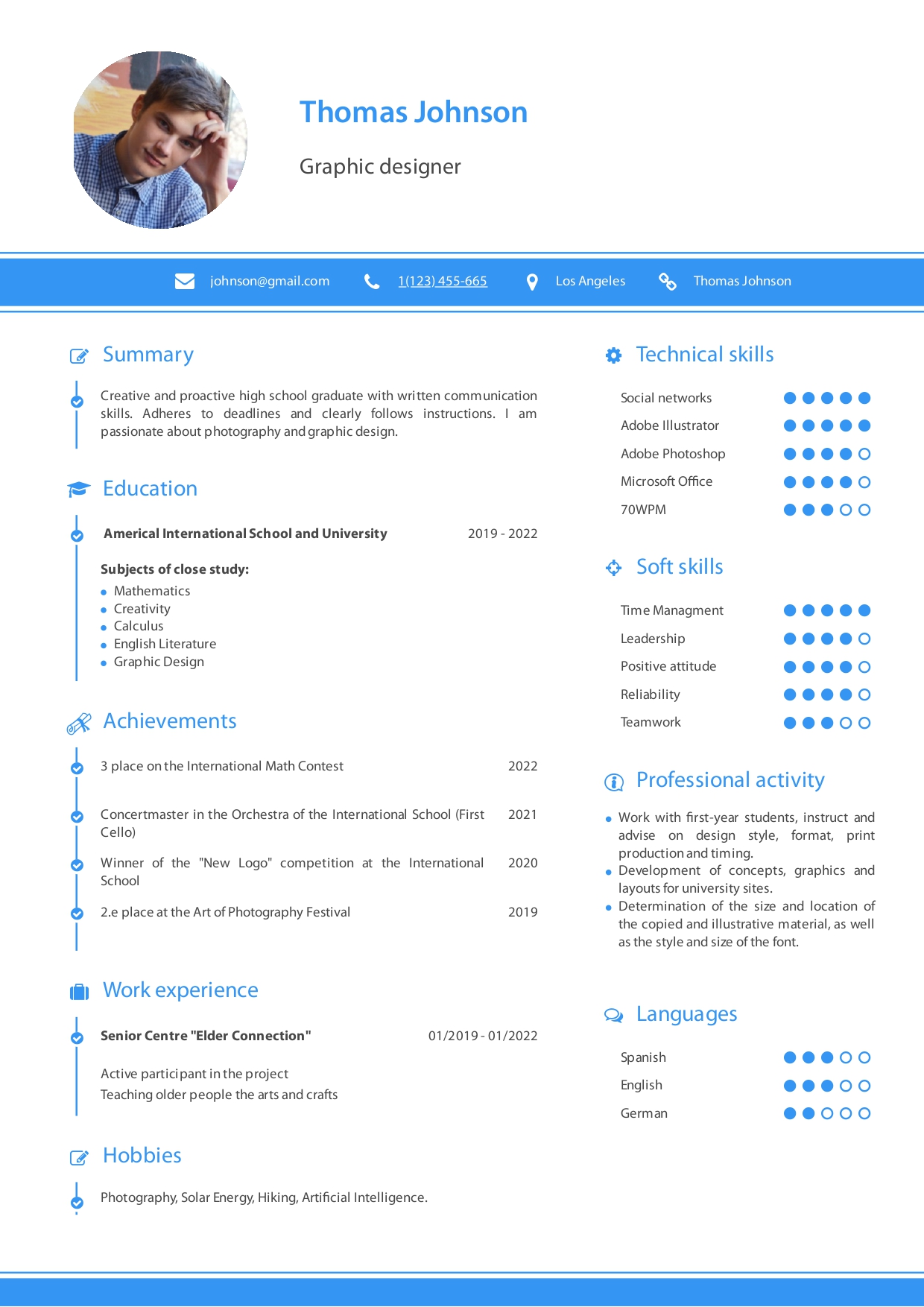 If your highest level of education is school, write this on your résumé, as follows:
Adcote School, Little Ness, UK
Graduated in 2018.

If you are still in school, just change the second part to make the school education section look like this:
Adcote School, Little Ness, UK
Graduating in 2020.
If you did not graduate from high school, write the name of the school, the city and country of study, and then the years you spent there. If you took a general education test instead of graduating, write this:
"USE as the equivalent of a high school diploma. Obtained from the Center for Adult Education, 2019. Western High School, Baltimore, Maryland. Attended from 2012-2016."
Tip: If you have a high school or college degree, do not list your high school education. But if you don't have a degree yet, and your high school education contains experience that will help you in your job search, mention it on your résumé.
Secondary vocational education (technical school, vocational school, college)
This level of vocational education means a specialist with practical skills or a mid-career worker. If you studied a profession after high school, you could list it in addition to your secondary education if it is related to the job you are aiming for.
For example:
Chichester College, South England
September 2019 – June 2022
Internet Marketing Department
Associate's Diploma in Online Promotion Tools
Tip: According to researchgate.net, 78 percent of employers pay attention to applicants' specific skills and talents. Candidates need to develop professional skills that help them get hired far more than having a college degree.
Sample résumé (secondary vocational education)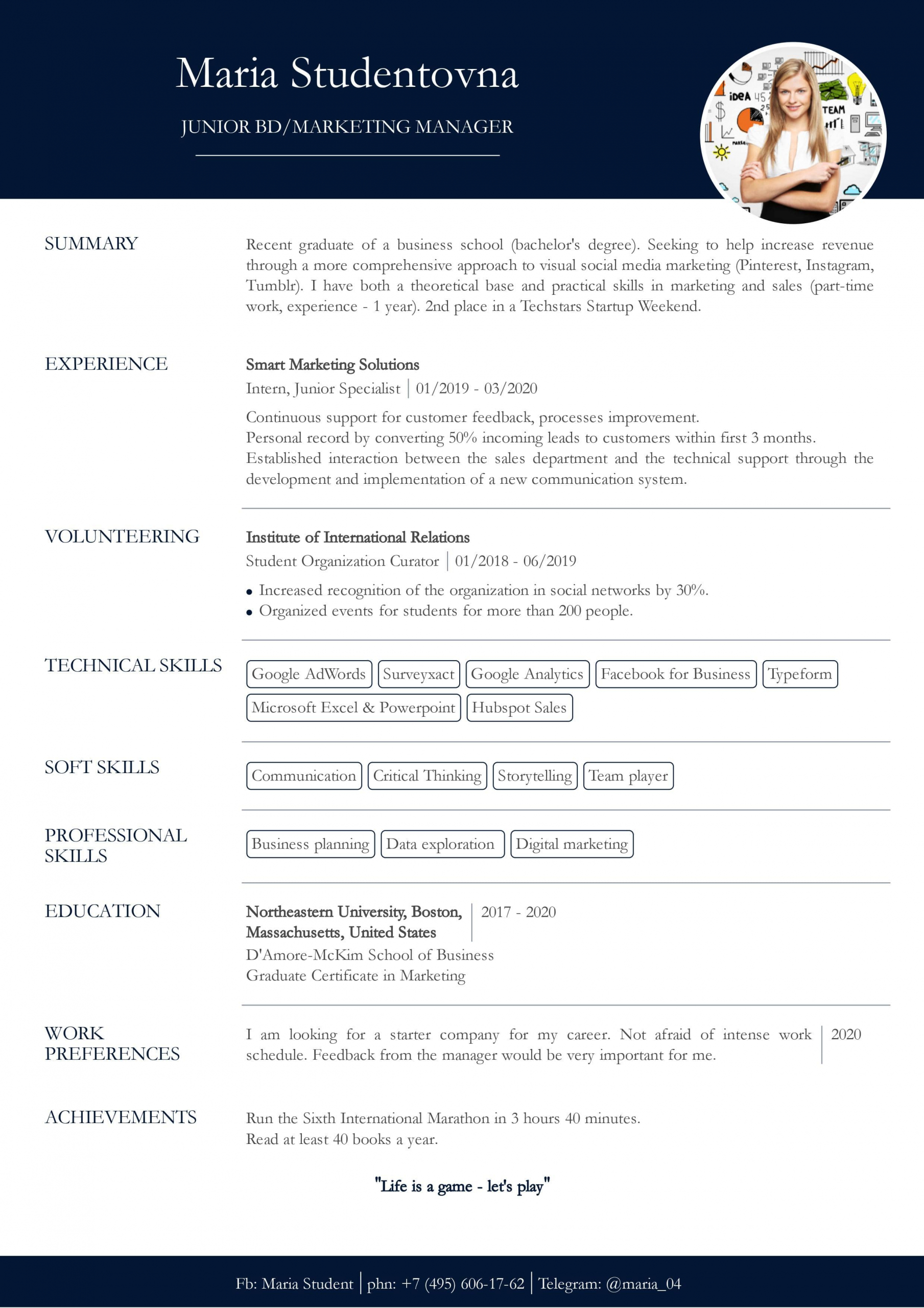 Follow this link to open this résumé
Higher education (academy, university, institute)
Graduates of these educational institutions have a higher professional education. The main qualifications are bachelor's and master's degrees. This two-level system of higher education is accepted in all countries of the Bologna Convention.
However, many applicants today hold a specialist diploma. This qualification is awarded in a number of areas, after 5 years of study. This is also higher education, although there is no longer a "specialist diploma" degree in the EU.
Example of an undergraduate résumé:
University of New South Wales, Australia, Sydney
Faculty of Arts and Social Sciences (2019-2022)
Bachelor of Arts
Average score: 4.6
Thesis: "The Art of PG"
Bachelors can continue their education in a master's program. Specialists can only enroll in a master's program on a fee basis, and their master's degree is equivalent to a second higher education degree.
In both cases, you should write about academic degrees on your résumé in reverse chronological order, from last to first.
An example of a master's résumé:
Harvard University Cambridge, Massachusetts (2020-2022)
Master of Science in Data Science
Average score: 3.83/4.00
Awards: Harper Education Foundation Fellow 2021.
Thesis: "Data Science I
University of Notre Dame, Indiana (2015-2019)
Bachelor's degree in mathematics
Average score: 3.90/4.00
Coursework: "Probability Theory"
Postgraduate education on the résumé
Graduate school is a division of an institution of higher education for the training of highly qualified scientists. If you defended your dissertation and became a PhD candidate, indicate this information on your résumé in reverse chronological order.
An example of a résumé for a PhD candidate:
Moscow State Pedagogical University
Graduate School of History (2020-2022)
Candidate of Historical Sciences
Dissertation "Social Conflicts in Ancient Rome"
Moscow State Pedagogical University
Master's degree, Department of History (2016-2020)
Thesis: "The Legacy of the Classical Era
Moscow State Pedagogical University
Bachelor's degree, Department of History (2012-2016)
Education on the résumé of a doctor of sciences (professor, associate professor)
The title of associate professor can be awarded to teachers who have a PhD or doctoral degree, more than five years of scientific and pedagogical experience, and more than one year of teaching experience.
If the applicant has a PhD, he or she only needs to list the following information regarding education:
Doctor of Medicine, Biomedical Engineering, ABC University, 2022
Master's degree, Biomedical Engineering, ABC University, 2012-2014
Bachelor's degree, Biomedical Engineering, ABC University, 2008-2012
Conclusion
Job seekers should keep in mind that there are no hard and fast rules about how to include your education in your résumé:
You can place the "Education" section before or after your "Experience" section.

For students: the "Education" section can be placed at the top until you gain sufficient professional experience.

Even if you don't have a degree, a secondary vocational education or course is valuable and can help you to secure that job.

Remember the principle: the more distant in date your education is, the less important it is (and the shorter it should be).
Tip: If you are a recent graduate with little experience, use the CV2you Simple template with parallel sections. Then your education and experience will be on the same level, and you won't have to make section prioritization choices.
Read the full article about education on our blog.
———————————————————–
Summary of work experience
Most recruiters prefer experienced candidates. For this reason, many job seekers try to write about every position they have ever held.
But why would an HR manager need unnecessary details? Indicate only relevant experience!
Your responsibilities and achievements should be consistent with the vacancy. There are several ways to accomplish this: edit your résumé for each new position, add keywords from the vacancy description… But first things first.
There are standard rules for the layout of the "Experience" section that must be followed regardless of the content.
Include a uniform structure for each past job on your résumé:
Name of the company in which you worked (or work)

Start and end dates of your position

The company's area of activity (if it is not well-known)

City (optional)

The position you held (or hold)

Your responsibilities

Your measurable achievements (at least 1-2 per place of work)
Here's an example of how to write about your experience in a résumé: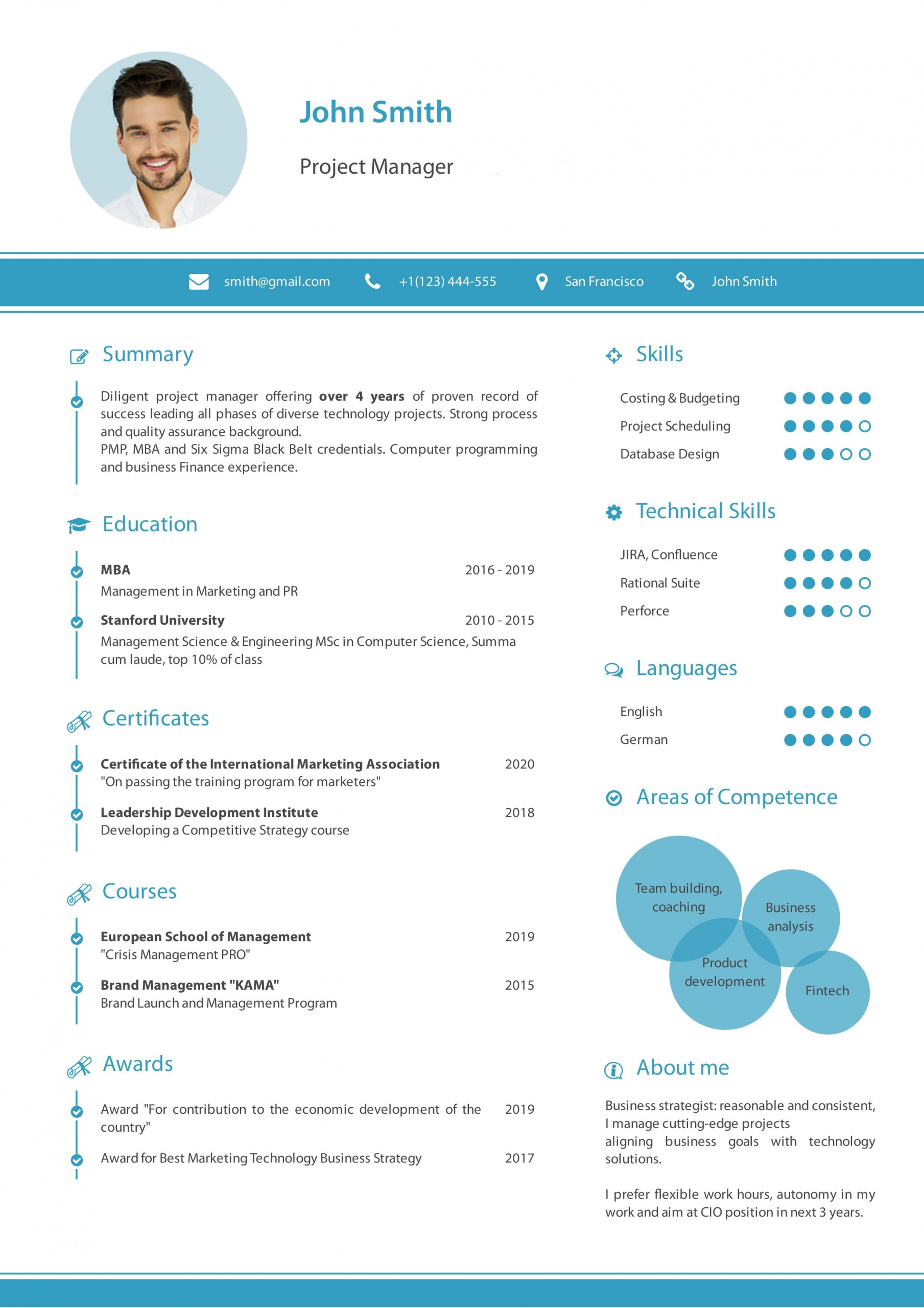 By clicking the link, you can use this template to create your own résumé.
Many job seekers have such questions as:
In which résumé section do I write about my experience?
Answer:
If you are a young professional, a graduate, not currently working in your specialty field,

write about your experience after the "Education" section.

If you are an experienced worker, write about your experience

right after the "Summary" section.
Each case is different: perhaps you have many years of experience, but you took a second degree in order to change career. It's important to prioritize experience and education in line with your potential employers and use the appropriate résumé structure.
In what order should I list my experience?
Answer: Always in reverse chronological order: start with the most recent job and end with the first.
Use the appropriate order for work experience in your résumé:
Chronological format — this lists your work, events, or achievements in order of when they occurred. This is demonstrated by showing what experience was first, what happened next, and subsequent events right up to the latest experience. This way of presenting events in a résumé is also called a temporal or linear format.
Functional format highlights your abilities such as hiring, managing, or coaching, and a chronological work history. You will still need to summarize your experience, but this is usually done in the lower part of a functional résumé. Don't panic. By the time the reader gets to this point, he will already be planning to invite you for an interview!
Combined format. A combination of chronological and functional formats is a "combined" résumé. Skills and abilities are listed at the beginning, followed by chronological experience. This résumé format is good for emphasizing certain skills and abilities of job seekers who have various experience, or for creative candidates such as designers or artists.
How do I write about my achievements?
Answer: Use the "Problem–Action–Result" method (PAR), as shown in this infographic: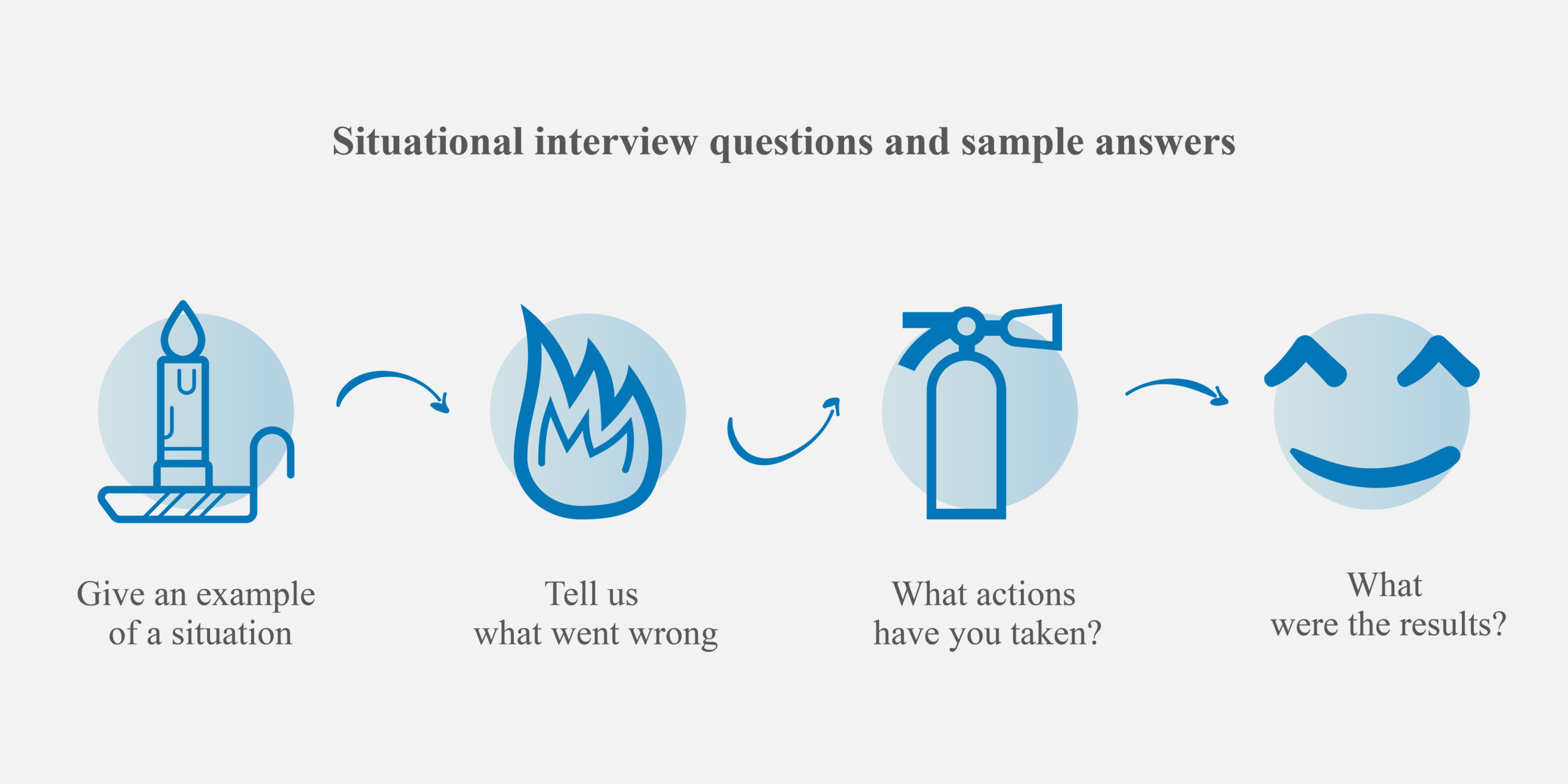 What experience should different job seekers list?
No work experience
List all types of employment, including unpaid work such as volunteering activities. Specify your pre-graduation internships, your work in student organizations, extracurricular activities, etc.
Job seekers just starting out
List in the "Experience" section all of the duties you have undertaken, and all of the places you have worked at. This could include internships, part-time work, remote work, temporary projects, freelancing.
Average-skilled specialists
If you have 5+ years of experience and have worked for several employers, specify in the "Experience" section those positions that are relevant to the desired vacancy. Keep it brief for the experiences that are not relevant to the vacancy.
Experienced candidates
If you have 10+ years of experience, remember the "golden rule" of résumés: one page per each 10-15 years of experience. You don't need to specify anything beyond this limit. After the "Experience" section, create a section about any advanced training courses. Your primary education should be listed in third place.
The CV2you résumé builder provides handy templates for work experience. We have header formatting, highlighting, different font choices, and calendar dates. Create your résumé by following the simple prompts!
General tips for the "Experience" section
1.Use keywords from the job posting
All vacancy listings contain keywords such as skills, equipment, or software program knowledge that a job seeker should have. Automated applicant screening systems use these words to find the right people. Determine those words and use them in your résumé!
For example, there's a vacancy for a laboratory technician on a job website. It says that the applicant must:
Have practical experience in laboratory diagnostics for over 1 year;

Be familiar with the basic methods for conducting

hematologic

,

biochemical

,

immunological, general clinical

tests

;

Have experience with

automatic and semi-automatic analyzers

.

Have the ability to work

in a team, be professional, results-oriented,

accurate

,

attentive,

tactful.
Taking these keywords into account, the applicant's skills should include:
Performing

hematologic tests

; for instance, blood typing, differential leukocyte count;

Working with

automatic and semi-automatic biochemical analyzers

;

Teamwork;

Attention to detail.
2. Include your key achievements when listing the duties for each position
What is the difference between a successful candidate's résumé and that of a… um… candidate? Achievements. Earlier we suggested using the simple yet effective PAR (Problem–Action–Result) technique. What problem did you face at work? What action did you take? What was the result?
A simple way to improve your "Experience" section is to use measurable achievements, facts, figures, and statistics.
Wrong:
Increased the percentage of sales
Right:
Doubled the percentage of sales in three months
Tip: Don't list all of your responsibilities. It's enough to mention 5 responsibilities per place of work.
3.Perfect verbs for descriptions
We recommend using only perfect verbs in the "Experience" section, and indeed throughout your whole résumé. It works every time!
4.The sequence of events in your career
"I look at the logic behind why a job seeker has moved from one job to another," a recruiter told Jobscan.
Perhaps you decided to narrow your focus on your career, so you changed jobs. Or you had to expand your area of responsibility and therefore moved to a new job. Make sure that your résumé reflects the true reasons for this change.
Obviously, you shouldn't write, "My boss made my life a living hell, so I quit." Demonstrate how you used potential growth areas for improvement.
By the way, a good method for checking your career trajectory is to read your résumé and ask yourself, "Is it clear why I changed jobs?"
5. Go from the general to the specific
Remember how skillfully Sherlock Holmes used the power of deduction? You too need to master this technique for your job search.
Let's assume you are a PR manager and you need to describe your tasks in your résumé. First, it's better to mention that strategic brand-development plan you developed. This is a general task. Then you can move on to smaller tasks, such as specific developments and how you implemented them.
What to do if there are gaps in your experience?
Many job seekers assume that a gap in their job history might make a recruiter wary, so they change their job timeline to fill in these gaps. You shouldn't do this because if the truth comes out, you'll have to explain yourself.
Tip: If you've been unemployed for less than 9 months, this gap isn't likely to have an impact on the recruiter's decision. If you've been unemployed for longer than that, explain the reasons for this long career break in your cover letter.
Promotion
If you only had a change in your position (and salary), write about this in a single point in your "Experience" section. Like this:
Morgan Stanley, New York
(2015 – 2019)
VIP customer manager (2017 – 2019)
Customer support manager (2015 – 2016)
Mention the promotion

Your responsibilities for both positions

Your achievements in both positions
If your responsibilities changed along with the position, create a separate description for each new position in a new sub-section.
Morgan Stanley, New York (2015 – 2019)
Depositary customer manager (2017 – 2019)
Responsibilities

Achievements
Customer support manager (2015 – 2016)
Responsibilities

Achievements
Conclusion
In summary, what is important to remember when completing the "Experience" section?
Right:
List only relevant experience, in reverse order
Reduce the number of
responsibilities
if they are similar
Use keywords from the vacancy description
Remember the logical flow of the career trajectory
Proofread your résumé the next day to check for errors
Wrong:
List 15+ years of experience in a résumé on 3+ pages.
Write vaguely about your responsibilities, without achievements.
Use a text with no structure, lists, or highlighting.
Read an in-depth article about experience in our blog!
———————————————————–
Certifications, courses, training, awards
Information about certifications, courses, and training in your résumé serves two important purposes:
Firstly, each relevant certification increases your salary prospects (+ improves your own confidence in your skills)
Secondly, it demonstrates your interest in professional growth and desire for self-development.
"87% of people who train in professional development report career benefits such as promotion, salary growth, or obtaining a new position."

Coursera students survey (2019)
A look at how certifications, courses, and awards look on a general résumé: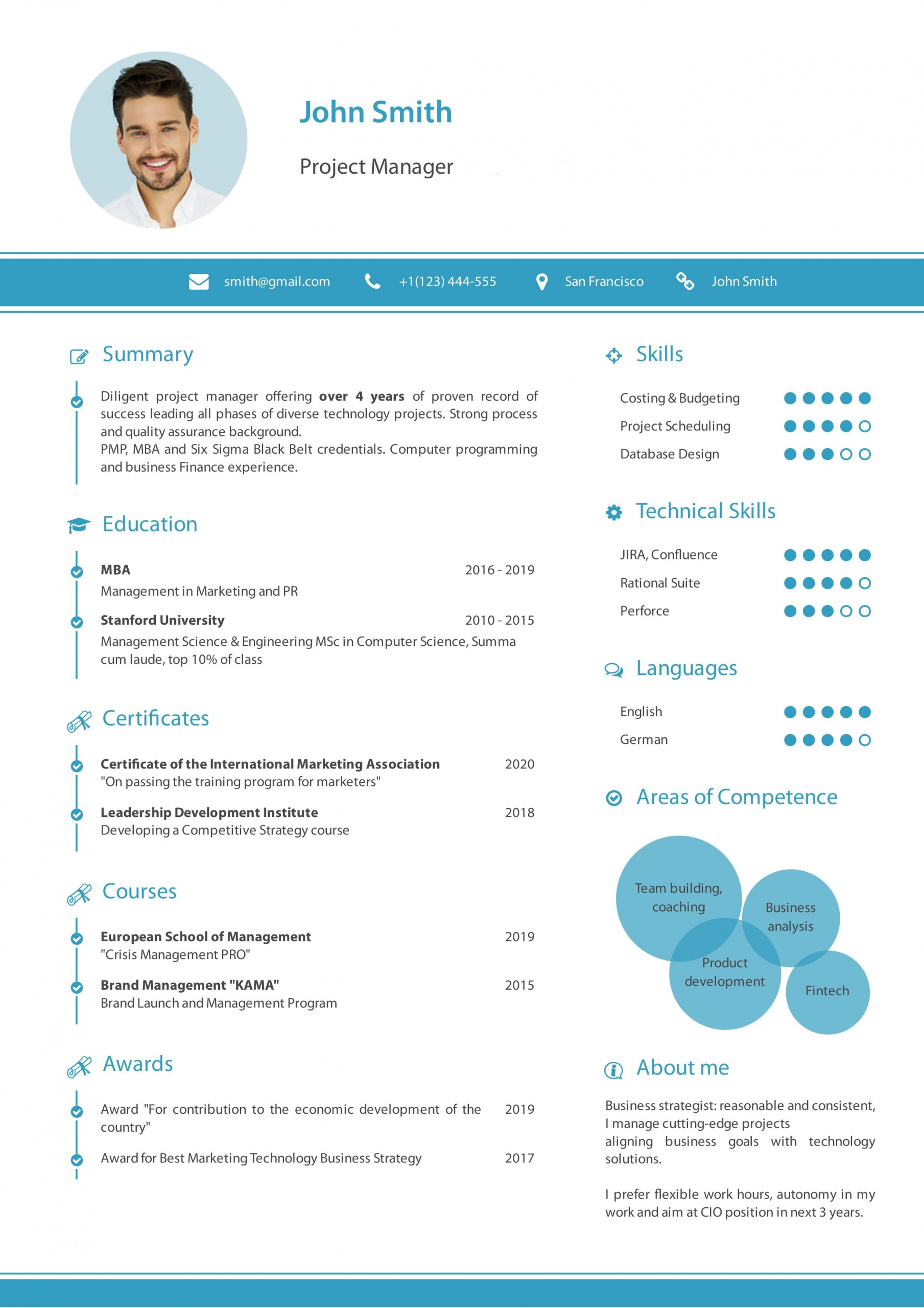 The difference between certifications, courses, and training on your résumé
Professional certification officially confirms your knowledge. A certification is issued by an authorized state institution or international organization.
Training and courses are provided by any commercial organization (including online). Sometimes training leads to certification, but not always.
Awards are recognition, a diploma, or another token of appreciation – a form of reward for outstanding results achieved in your focus area.
Tip: If you know that a potential employer is looking for specific knowledge before considering your work experience, place the section with certifications and courses at the top of the page, just below your contact details.
Tips:
List each certification, course, or training in reverse chronological order.

Don't include certifications / training / courses that are not relevant to the job.

Acronyms and

abbreviations

must be

spelled out

in full at least once, so that they can be understood by recruiters who are not specialists in your field.

An appropriate certification format should follow this structure:
Name of the award / license / membership / course

Name of the certifying authority (if any)

Validity period (if applicable)

Location (if necessary)

If you're still taking the course, specify the expected date of completion.
Read a full article about certifications, courses, and awards in a résumé at this link.
———————————————————–
Personal qualities and professional skills
This section of the résumé generally receives a lot of attention because many employers assess the applicant's skills above all else. The most common mistake: the candidate's inability to distinguish personal qualities from hard skills.
Check yourself!
Is communication a professional skill or a personal quality?
Answer: Communication is a professional skill, such as proficiency in a foreign language or copywriting. Sociability, however, is a personal quality.
So, you can specify the following skills on your résumé:
Personal qualities (innate traits)

Soft skills, which are influenced by traits)

Professional skills (hard skills that are developed on the basis of soft skills)

Technical skills (a separate part of a set of hard skills)

We'll review each point in greater detail below.
Personal qualities in a résumé
Personal qualities are a set of innate traits, which are influenced by the person's education and genetic predisposition.
For example: kind, honest, brave.
Qualities shape skills and have an impact on the quality of your work and interactions with other people. Let's say that you're a quiet introvert; it's unlikely that you'll become a good salesman. And if your employer believes that being 10 minutes late is unacceptable you're not too punctual, it's unlikely that you will achieve success in this company. And so on.
If you want to describe your personal qualities in your résumé, it's best to avoid such words as "honest, communicative, ambitious." Firstly, these are clichés. Secondly, it is better to choose personal qualities that are fully relevant to your profession.
Here is a list of qualities that are most relevant in different fields: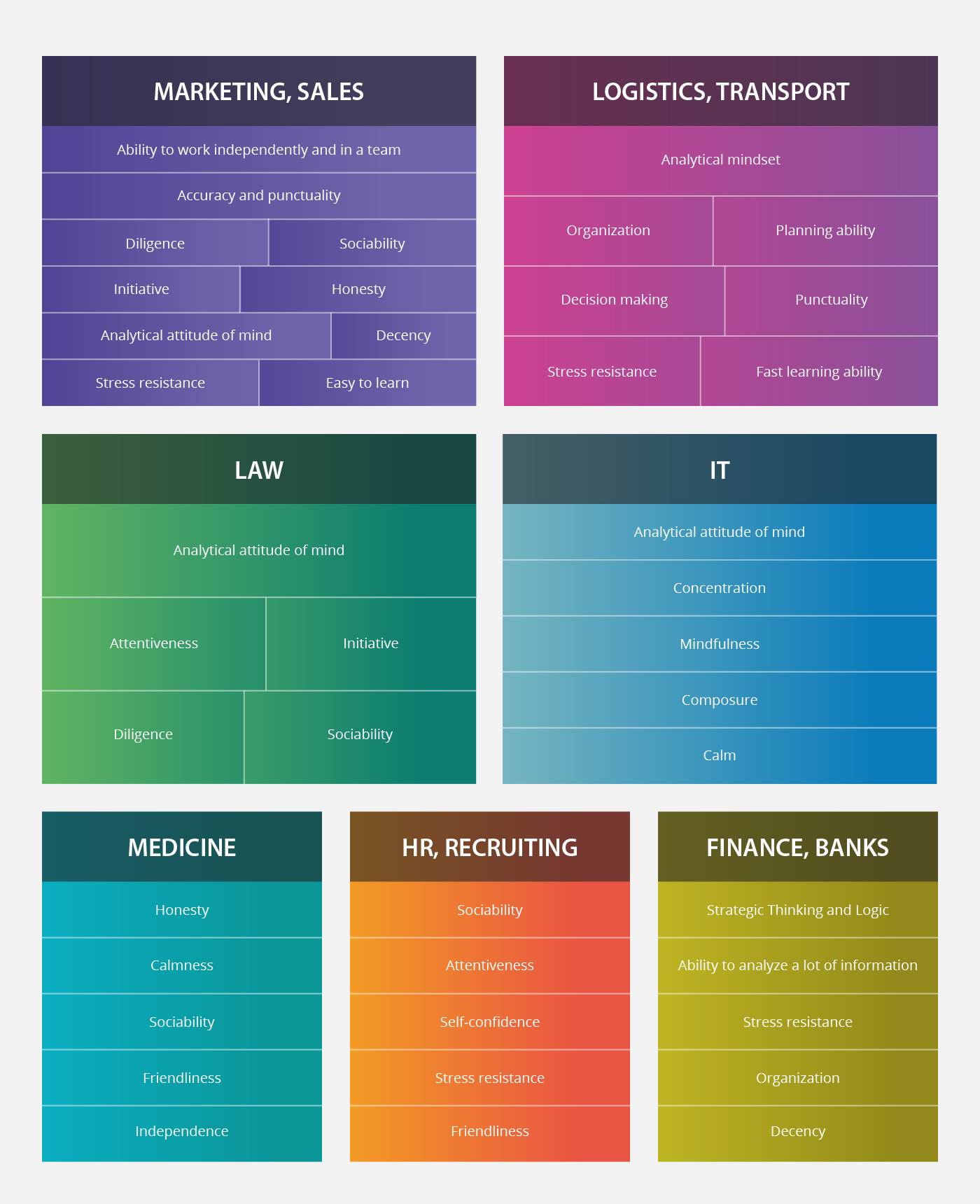 Negative traits on your résumé
If a recruiter asks you to specify negative traits in a résumé, write about the negative traits in a way that reflects your strengths. For example, you're meticulous, not boring; scrupulous, not slow.
Personal qualities are essential for mastering soft skills quickly.
Tip: When writing your résumé, rather than describing your personal qualities, it's best to write about the soft skills that are shaped by those qualities.
For example:
Friendly – I create a positive atmosphere

Decisive – I'm highly motivated

Convincing – I know how to sell
And so forth.
Skills
A Skill is an acquired ability to perform tasks. Acquiring a skill takes time and practice, and a skill can be lost without the latter.
Examples of skills: public speaking, negotiation, sales.
Skills can be flexible (soft skills) and professional (hard skills), some of which are technical skills.
Soft skills
The Oxford Dictionary defines the term "soft skills" as "Personal attributes that enable someone to interact effectively and harmoniously with other people."
Soft skills are a combination of social skills, communication skills, relationship skills, career skills, and social and emotional intelligence. They are the result of the development and application of your innate personal qualities. Soft skills are acquired throughout your life (through personal experience or learning).
Soft skills allow a person to interact with others effectively and to build a career. Recruiters highly appreciate soft skills: they are acquired gradually, influenced by a variety of events, and they stay with a person throughout his or her lifetime.
According to a recent report by iCIMS Hiring Insights, 94% of recruiters believe that a job seeker has a better chance of being promoted to a leadership position if he demonstrates these skills:
Problem-solving 38%

Verbal communication 29%

Adaptability

17%

Time management 13%
In 2013, Google conducted a study, Project Oxygen, to identify which employee characteristics are of little value and which are of the greatest value to a company's success. Even though the company's policy is based on the STEM approach, technical skills (science, technology, engineering, and mathematics) ranked only eighth in the study, whilst the seven top positions were soft skills, specifically:
Coaching

Communication and listening

Understanding other people

Empathy for colleagues

Ability to think critically

Problem-solving;

Ability to communicate clearly
Here are some examples that you can include in your résumé: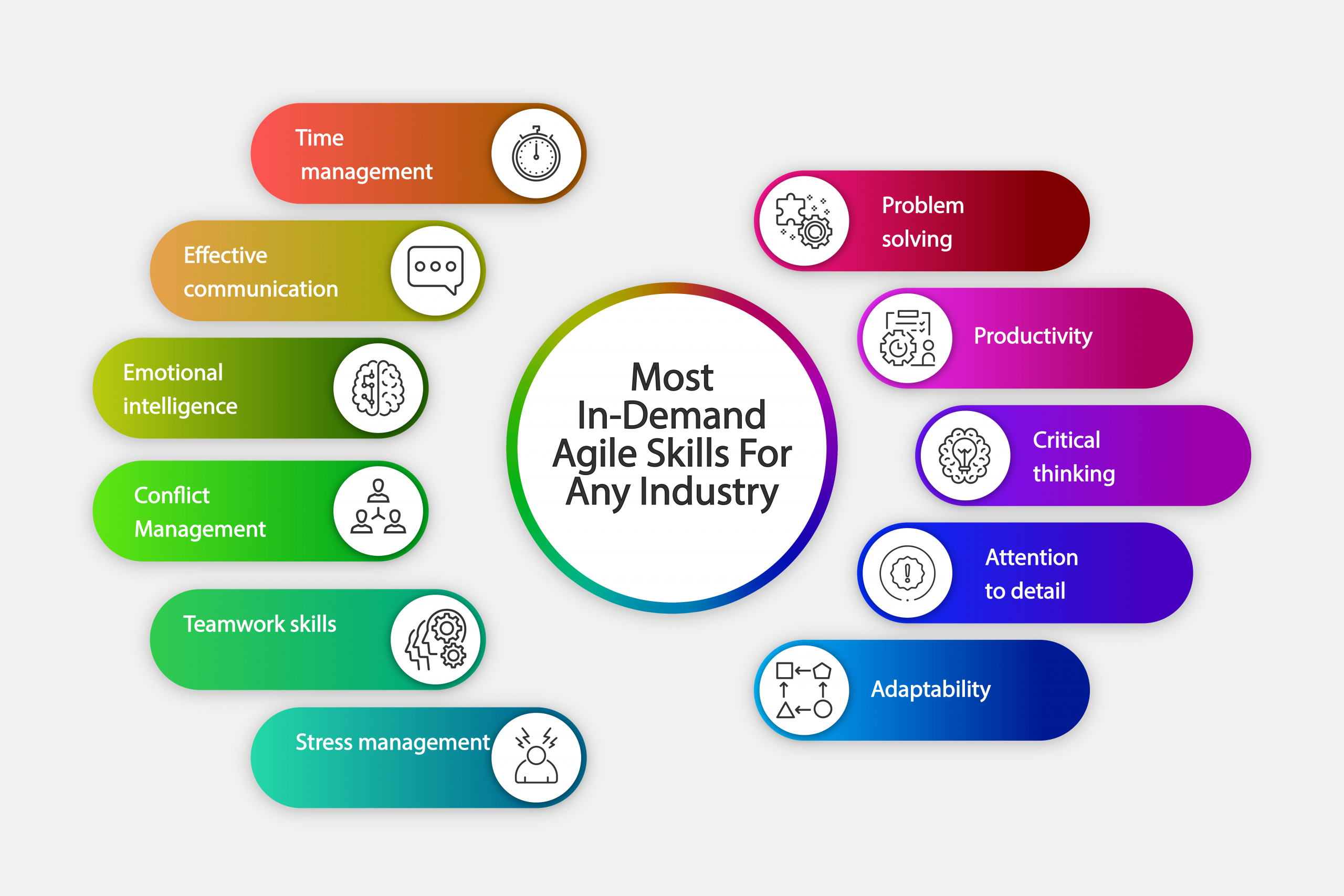 The ability to form hard skills quickly and effectively is developed based on soft skills.
Hard skills on a résumé
Hard skills are a set of skills that are necessary for a specific job. Hard skills evolve only during a career and can be measured and assessed. Soft skills are the fastest and most effective to develop. For example, a CFO has a professional skill of financial analysis. He is detail-oriented: this is a soft skill that is formed through sociability (a personal quality).
According to 2023 HR statistics, 91% of employers are looking for employees with ready-made professional skills. 
But simply writing about "management skill" without real examples will not set you apart from the competition. It's better to mention how you have successfully applied your skills in your work.
Wrong:
Familiar with the Scrum methodologies
Right:
Completed 5 projects using Scrum management methodology
"The thing abouthard skills is that they ensure your employability, while soft skills have a greater impact on career decisions such as promotion. Soft skills can also be a decisive factor in your favor, but only if you have relevant experience," says Susan Vitale, chief marketing officer for iCIMS.
SHRM's research showed that 46% of HR professionals cited the most vacant positions as being those that require technical skills.
In its "2023 Jobs on the Rise" report, LinkedIn reveals information about the job market, identifying the 20 jobs that have grown the most in the past five years. In addition to showcasing these jobs, the report also looks at emerging trends shaping the future of work, giving readers a glimpse into the dynamic and changing landscape of the job market.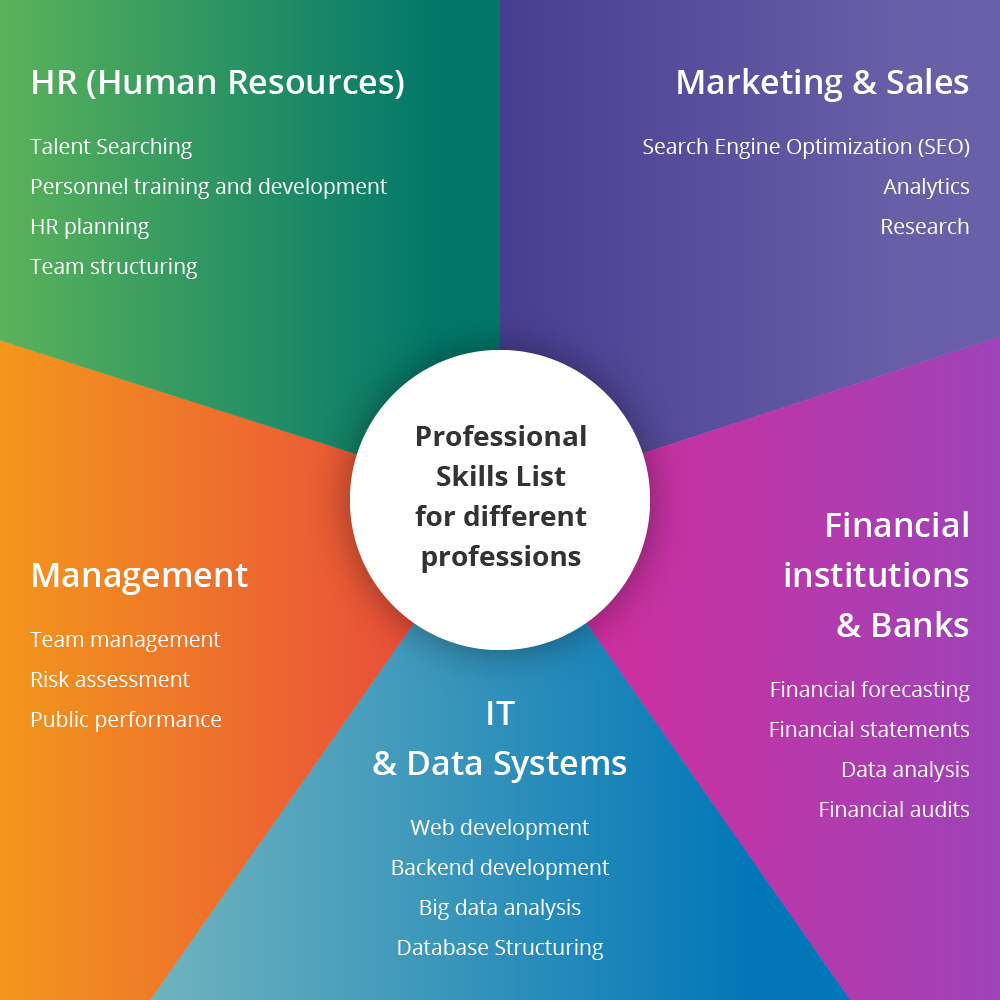 Technical skills
More often than not, professional skills are not enough when it comes to securing that job. Job seekers need technical skills as well.
A technical skill is the ability to carry out specific tasks with the help of special software or equipment. Technical skills in one industry may vary greatly between employees.
Examples of technical skills: 
For a lawyer: Jusnote
For a healthcare professional: Planmeca
For a marketing manager: Google Analytics, Google ads, Mailchimp
For a financial officer: 1C
For a project manager: Jira, Asana
For a front-end developer: html 5, JavaScript 
Tip: If technical skills are a key prerequisite for employment in your field, it's best to put this section at the beginning of the résumé. This will enable the recruiter to quickly find the necessary information.
Conclusion
 Remember the main principles of describing your skills on your résumé:
Relevance (include only those skills that are relevant to your profession)

Use keywords from the vacancy description (

ATS

and recruiters will zero in on them)

Transform your personal qualities into skills 

Confirm skills with figures and examples
A full version of the article about skills is available through this link
———————————————————–
Languages  
Learning a foreign language requires monetary investment, effort, and time. So, when your résumé indicates that you speak other languages, it makes an impression on a recruiter – provided you write about your proficiency correctly.
Do you think this example is written correctly?
English – Fluent
Spanish – Above average
Portuguese – Conversational 
Here, the order is logical, with the language skills listed from strongest to weakest. But this example might cause confusion in terms of skill level. For example:"Conversational Portuguese" – does this mean that the candidate can speak the language but not write it ? 
Below, we will tell you the best way to write about your language skills on your résumé.
Why is the "Languages" section important on your résumé? 
As mentioned earlier, employers highly value candidates who are proficient in a foreign language. This is clearly demonstrated in the following infographic: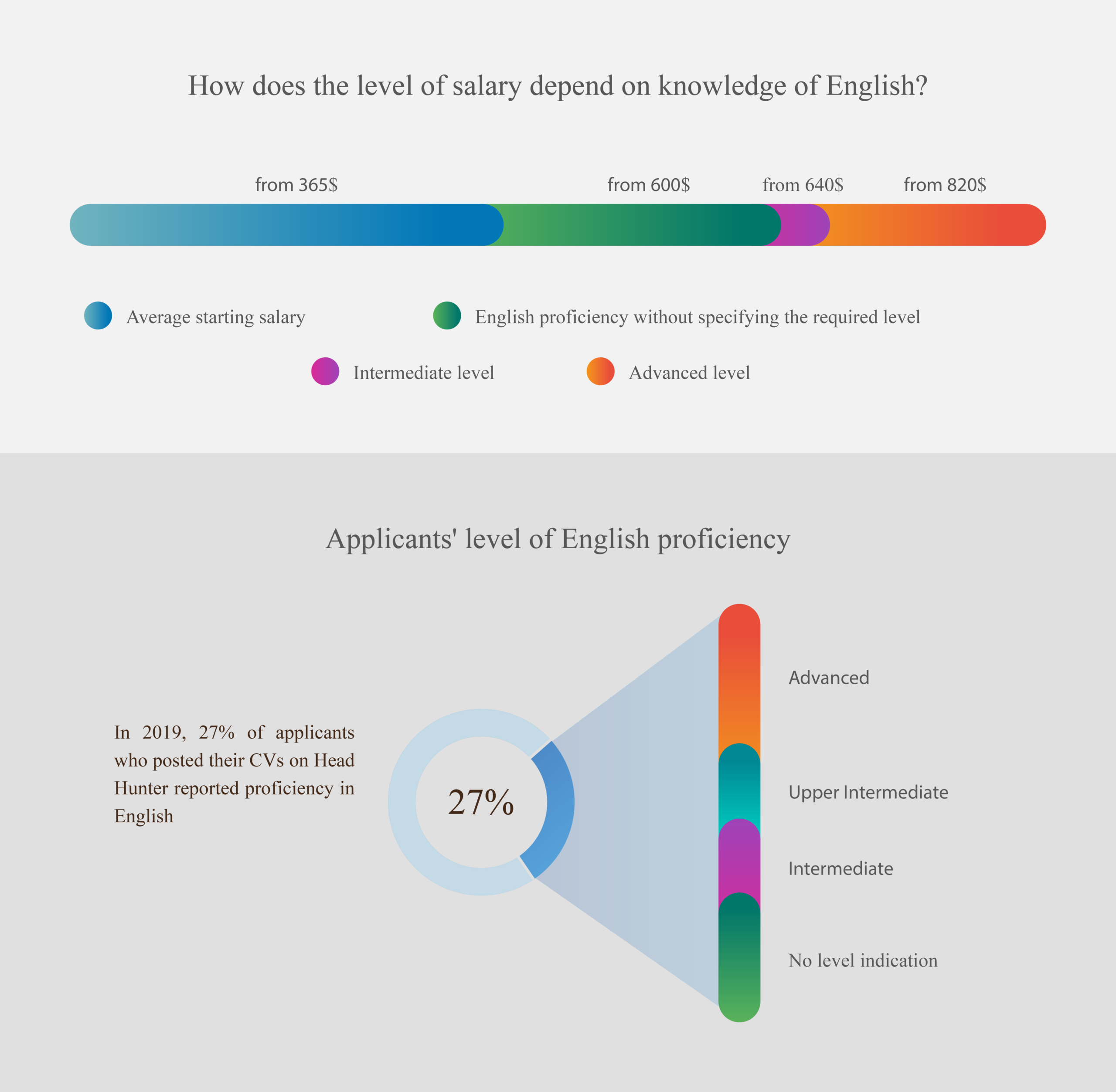 When writing your résumé, it's important to create a separate section for language skills. This way, you can be sure that a potential employer will see and appreciate your skills!
How do you determine your level of proficiency for a language?
More often than not, applicants tend to exaggerate their foreign language skills, which is equivalent to a lie on a résumé; at the same time, other candidates underestimate themselves, thus inadvertently reducing their potential salary.
So, before listing languages on your résumé, you should first objectively assess your comprehension level.
You have two options:
Obtain an official certification;

Self-assess your language skills.
The first option is usually paid, and is appropriate for professionals whose jobs require the use of a foreign language.
The second option will be best for candidates in whose professions languages play a minor role.
International standards for language skills assessment
When preparing your résumé, it's best to use the commonly accepted international language proficiency standards, which we will describe next.
CEFR
This is an international standard for describing language skills on a six-point scale, from A1 for beginners, up to C2 for those who have mastered the language. It is most commonly used in Europe. The standard enables anyone who may test your language skills, such as recruiters, to see the different skill levels and easily compare one candidate's proficiency with others'.
Determine your level: CEFR levels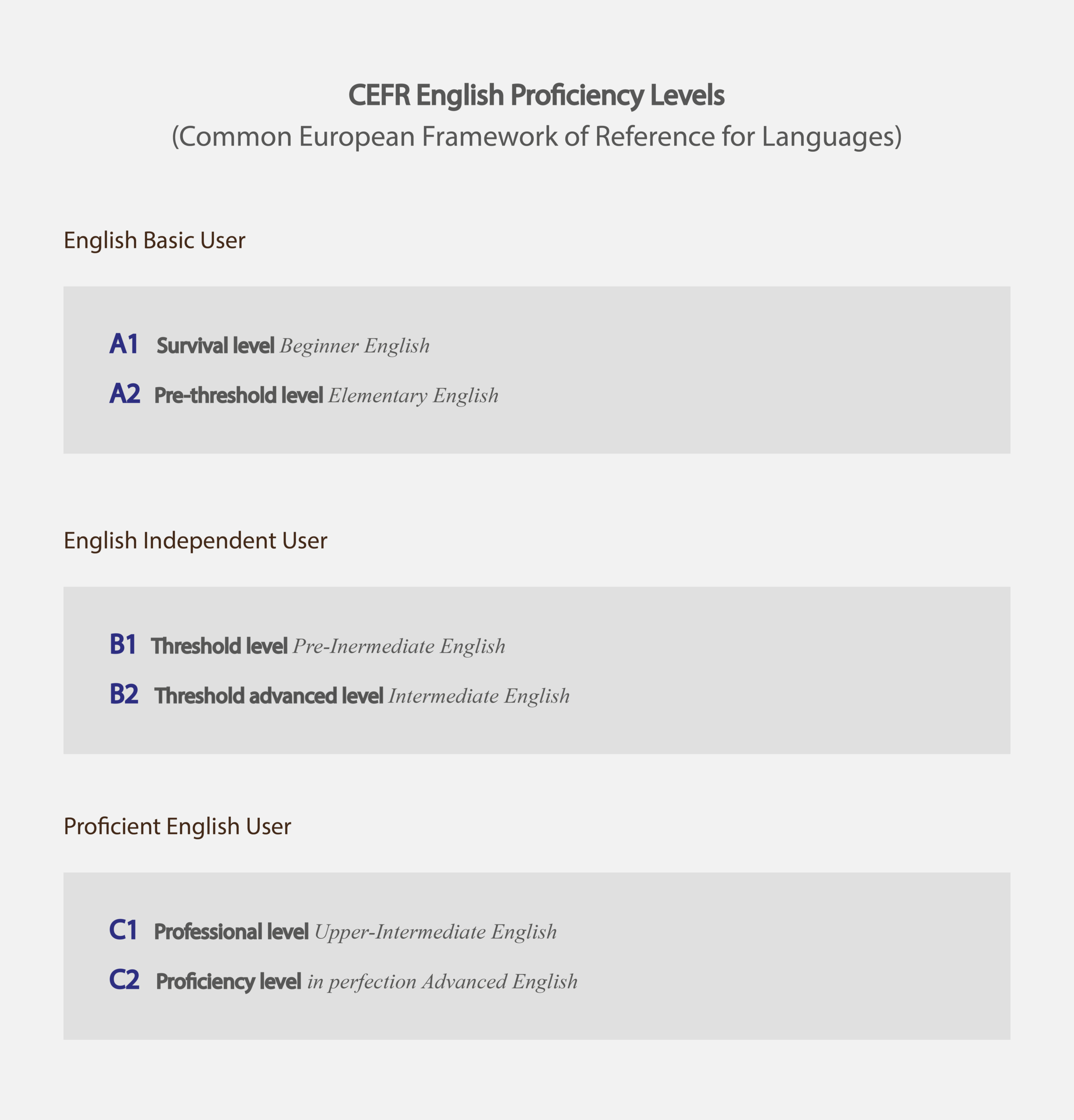 Here is an example of a "Languages" section in a résumé that indicates the American language proficiency scale:
Hindi – C2 (CEFR)
French – B2 (CEFR)
Indonesian – A1 (CEFR)
Tip: If you have a certification for one language but have self-assessed the level of the other language, mention this in your résumé.
Right:
German
–
B2 level certificate
Chinese – A2 level
ILR scale
The Interagency Language Roundtable Scale (ILR scale) consists of a set of abilities to communicate in English. This is the standard grading scale used by the US Federal service.
Determine your level: Official ILR website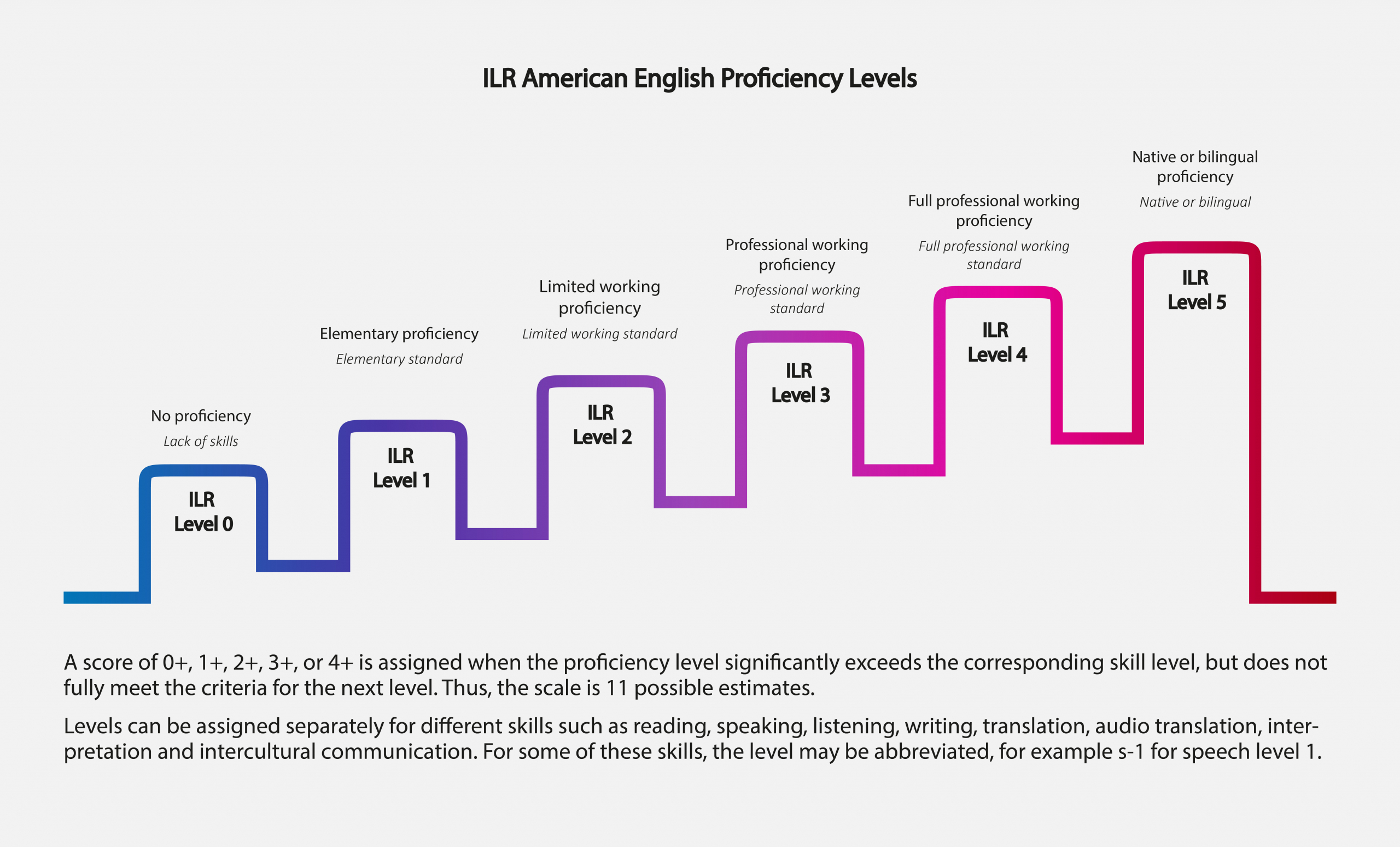 ACTFL
The abbreviation "ACTFL" stands for "American Council on Teaching of Foreign Languages." The ACTFL standards are an enhanced grading scale that was developed from the previously used ILR scale in the US. It describes language skills, including speaking, writing, listening, and reading. The ACTFL proficiency scale has five levels of language proficiency: Distinguished, Superior, Advanced, Intermediate, and Novice.
The system subdivides Advanced, Intermediate, and Novice levels into three sublevels (High, Mid, and Low).
Independent assessment of language skills for your résumé 
If we summarize the information from these language-grading scales, we get the following levels: 
Basic level (CERF A1 / A2, or ILR 0,1): Basic knowledge, elementary reading and writing skills. Ability to talk a little about yourself and answer simple yes/no questions (usually with the help of a dictionary). You can understand people if they speak slowly and are prepared to explain their meaning in simple words.
Intermediate level (CERF B1 / B2, or ILR 2): Ability to discuss a wide range of topics (including professional ones). Understanding of general topics and dialogues to a large extent. Ability to explain verbally and in writing viewpoints and ideas on topical issues, without a dictionary. Faultless use of basic tenses and grammar rules.
Advanced (CERF C1, or ILR3): Ability to use language flexibly. Wide vocabulary range, knowledge of synonyms for each topic, without searching for expressions. Natural and smooth-flowing speech. Active use of idiomatic expressions. Ability to understand virtually any text, including professional ones. Unfamiliar words are rare. Use of all tenses and grammar rules according to the context.   
Proficient (CERF C2 or ILR4): Understanding of more delicate aspects and context in different situations. Only rare synonyms and slang words may be unfamiliar. Full professional proficiency (written and verbal, in interactions with speakers from different regions).
Native: The language in which you think (including idioms, slang, subculture, and mindset of that region).
Now that you know your language level, it's time to include it in your résumé!
Main requirements for the "Languages" section:
Consistency. You shouldn't mix language-proficiency assessment systems. Try to present your knowledge using a single system.
Wrong:
English ILR 4+
Hungarian C2
Relevance. In Europe, it's more suitable to use the CEFR scale, while in the US it's better to evaluate your proficiency with ACTFL or ILR levels.
Obviousness. There is no need to include your native language if it's obvious that you are fluent in it. The only exception would be if you are planning to work abroad.
Conclusion
Despite the fact that there are more than 7000 languages in the world, and, according to Wikipedia, 1 language disappears every 2 weeks, language skills still have an impact on salary levels and provide companies with business flexibility.
Points to remember when writing the "Languages" section:
Your language proficiencies deserve a separate section on your résumé

Usually, this section is placed towards the end of your résumé

It's better to start with the language you know best 

Use international standards to assess your language skills 
Create a beautiful section with the CV2you résumé builder – display your skills with infographics!
Read the full version of the Languages article here 
———————————————————–
"About Me" 
Imagine the situation: At a new job, you discover that the company you started working for has a penalty system with fines for being late or other infractions. As you are a new employee, and you've put a lot into getting this job, you don't want to quit during the probationary period for such a seemingly minor reason. Nevertheless, if you had informed your employer that you are willing to stay late at work if you come in late, you would have avoided that discomfort over the fines that will haunt you throughout your career with that company.
That's what the "About Me" section is for – to manage employer expectations and to ensure both parties are as comfortable as possible. 
We will list the most popular ways to write this section of the résumé, and explain what this section should and should NOT contain. 
We will start by looking at mistakes because the majority of candidates use this section for things that should actually go into separate sections.
What NOT to write in the "About Me" section
Hobbies: To be fair, most people are not interested. Playing the guitar or doing yoga will not help, for example, in an accounting job.
Strengths, or self-definition: It's better to mention these at the very beginning of the résumé, in the "Summary" section. 
Skills: These should be listed in a separate section of the résumé.
Achievements: It's better to mention these in the "Experience" section, together with the duties you performed.
Certifications and awards: These are great to put in the "Certifications" section.
Okay, that's clear. So, how SHOULD you use this section?
What to write in the "About Me" section of a résumé
First, it should include your work preferences – the tasks you would like to perform.
Second, organizational aspects: work schedule and conditions, location, company size.
Third, personal work principles that allow you to work productively: for example, your attitude towards subordination, willingness to work independently or in a team, freedom in decision-making. You can also mention career goals. 
This information is much more important than hobbies. It allows you to manage mutual expectations and helps to find the best match for all, and, consequently, to achieve productivity and satisfaction at work.
Here is an example of such criteria presented in an infographic: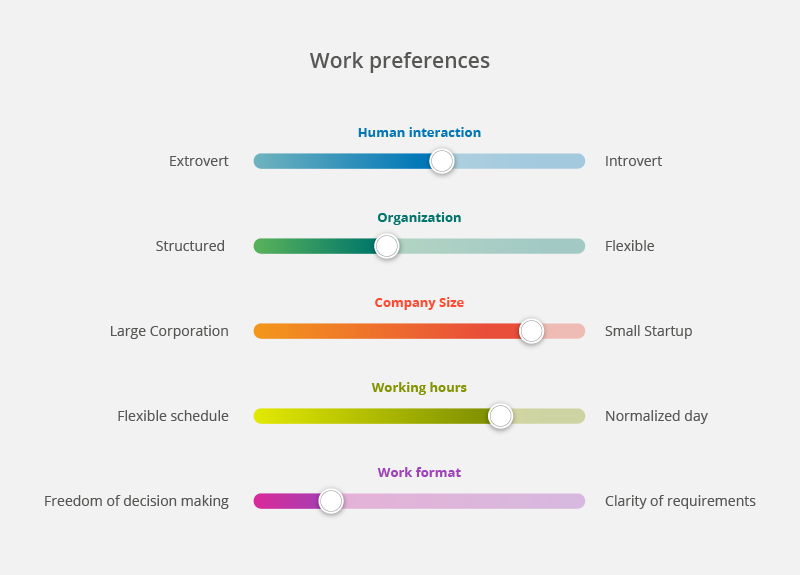 How to determine your work preferences
Here are a few questions to ask yourself before creating this section:
What positive/negative experiences led me here?

What values do I consider most necessary for my success?

What do I hope to accomplish in the near future?
Tip: Imagine a perfect team atmosphere. What does your dream workplace look like? Perhaps you've seen a job opening that perfectly matches your preferences. Choose keywords from that job description and use them to create your résumé.
An example of an "About Me" section on a résumé
For the position of penguin turner:
I am most interested in working on post-traumatic stress disorder in non-turned penguins [type of work tasks].
I prefer flexible work hours and working outdoors [work environment preferences].
I work best independently at my own pace [personal work values].
I aspire to reach the position of Antarctic Regional Manager in 5 years [career goals].
Mistakes
The "About Me" section is the section that leads to the most misunderstandings. Candidates list their interests, hobbies – but no bad habits. No doubt that your future colleagues will be very interested to learn that you like yoga and can do a Shirshasana pose for 10 minutes.
However, perhaps your employer will also want to know about your habits, and in particular about smoking, on which some employees spend the lion's share of their working time.
But you can discuss and clarify all these issues at the interview; the résumé is a brief, often one-page document, the aim of which is to show your real value.
The second mistake often made in this section is that candidates don't know what to write about themselves on their résumé. This is an understandable challenge because for many people it's hard to talk about themselves, let alone write a concise, informative text about themselves for a résumé. But please! Forget about cliché terms such as "outgoing" or "stress-tolerant." These examples are everywhere. It's better to write nothing about yourself than to a section with such clichés.
Wrong:
"I'm sociable, cheerful, diligent, and smart. I can be a leader when needed. No bad habits. I have a private car and a category B driver's license."
Right:
"I am looking for a job with a large corporation, with the possibility of flexible hours. I enjoy helping people, but I prefer to work on projects independently. I place importance on following instructions, and I know how to direct other people's actions.
Conclusion
The "About Me" section

is a brief part at the end of your résumé that is commonly used to describe who you are as a professional – much less to describe your desires regarding a potential job.

The "About Me" section

of your résumé should give the recruiter clear, concise answers to the questions:

"Is this candidate a good fit for us?"

;

"Will he/she enjoy working for us?"

In fact,

the main goal

of this section is to hedge yourself against a situation where your expectations of a new job don't match reality.

Try to keep the section

short

, up to 3-5 sentences.

This section is one of the

optional sections

, but if you have something to say about your work preferences or relevant traits, the

"

About Me" section of your résumé is the perfect place for that!
Chapter 3
A Quality Résumé: Summary and Takeaway Tips
To summarize, here is an overview of the top tips for creating a résumé:
Main requirements for résumé structure:
Logical coherence

Easy-to-read font

Main achievements

1-2 pages in length

Relevant information only
Main requirements for résumé design:
Text centered

; lists and headers left-aligned.

Add bullet points

when listing your skills / responsibilities / key achievements.

Font

: 11-14 pt. It is best to use one of Monster's international rankings:

Monster international portal

The file format

should be PDF.
Mandatory sections of the résumé:
Name, contact information

Brief info

Experience

Education

Professional skills
TOP 5 most common mistakes
Too much text:

3+ pages shows an inability to focus on the essentials.

Lack of structure:

Discourages recruiters from reading your résumé altogether.

No keywords:

Won't pass the ATS robot and a superficial glance.

No figures and facts:

Generic epithets and abstract duties won't get you a job.

Grammatical errors and typos:

These lower a recruiter's opinion of you before they even meet you.
Afterword
We have aimed in this article to give you the most complete information on creating a résumé.
However, it's one thing to tell – but quite another to show. So, here we are providing you with a résumé example with tips. It's interactive: the tips will pop up when you click on the various sections. And you don't even have to copy it: simply work directly in it to build your own résumé, by clicking the button below.
For more information on each résumé section, as well as on basic interview questions, tips for creating a cover letter and more, visit our blog.
Good luck!