The information in the resume about certificates, courses and training events serves two important purposes:
firstly, each certificate that corresponds to the position increases salary potential (as well as increasing confidence in one's own skills)
secondly, it confirms your interest in professional growth and desire for self-development.
"87% of people who are enrolled in continuing education report career benefits such as promotions, salary increases or new roles."

Coursera Student Performance Survey (2019)
Where to place the block with certificates, courses and awards?
If you have certificates, awards or training credits, you should highlight them in a separate section of your resume. Why?
Let's do a little test:
Imagine that you're a recruiter. Take three seconds to look at each resume, then tell us , which is the best image.
THIS:

OR THAT: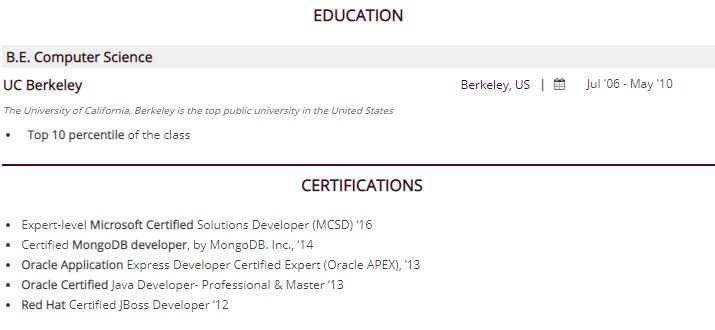 Isn't it true that an image in its own space catches the eye much more? Next, you will learn how to correctly add certificates, training credits and rewards to your resume!
The difference between certificates, courses and training credits
in a resume
After any training, you receive some sort of acknowledgement of the skills you have acquired and the results you have achieved. It can be a certificate, a diploma, an accreditation, or a less formal reward to mark your achievement.What are the differences?
Professional certification officially confirms your knowledge. The certificate is issued by an authorised government agency or international organisation.
Courses and training, including those done online, are conducted by any commercial organisation. Sometimes training leads to certification, but not always.
Awards, such as prizes or diplomas, are recognition and reward for outstanding results achieved in your field of activity.
Now, let's go into more detail with examples of each of these subsections. But first, take a look at how certifications, courses and awards look like in an example of a generic resume: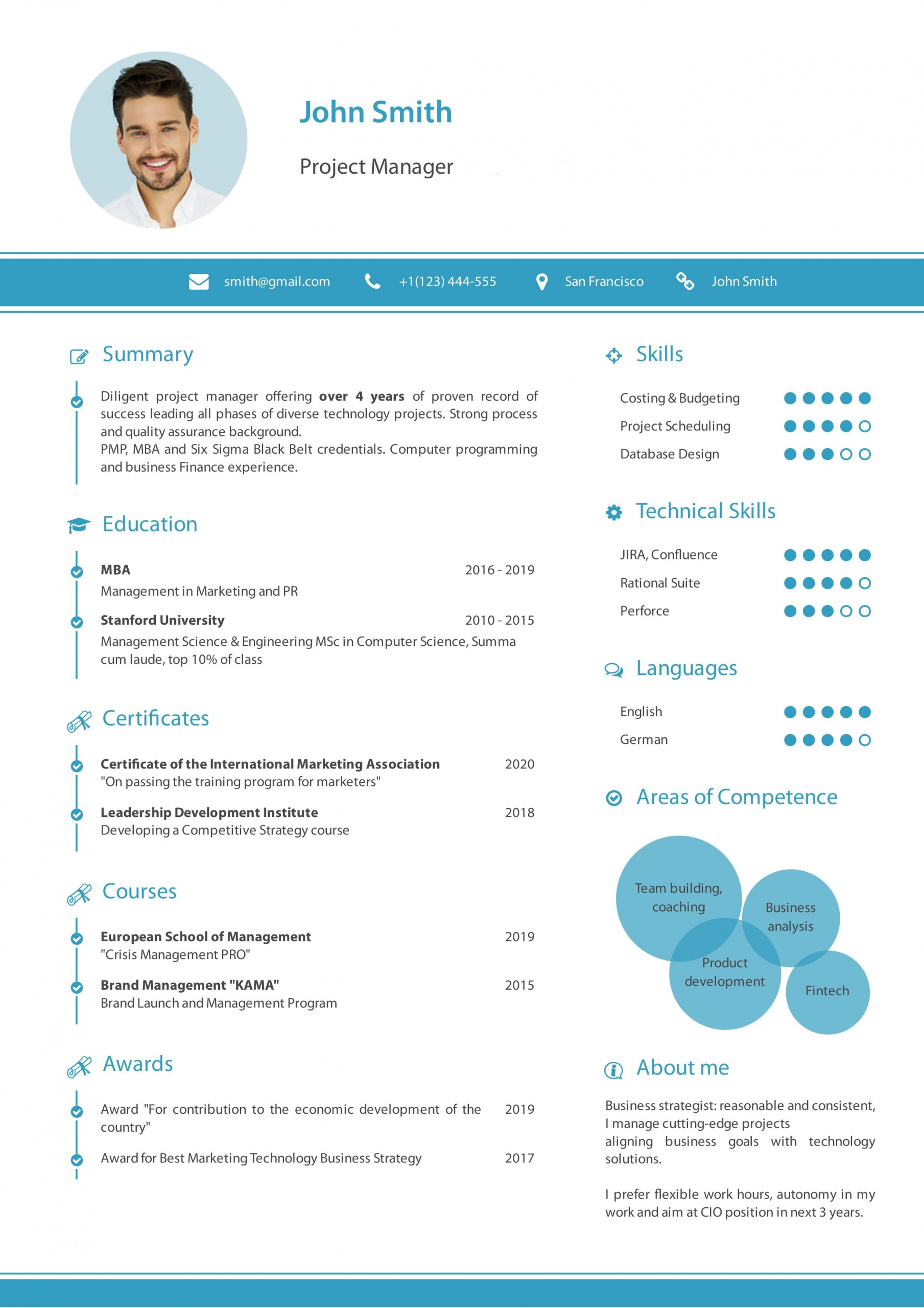 How to write about certificates in your resume?
There are certain professions in which certificates are required for work.
Job seekers wishing to grab the attention of a recruiter in industries like information technology, accounting, foreign language, project management and hospitality are well advised to have their certificates at the ready.
Tip: If you know that a potential employer will look for specific knowledge before considering your work experience, place the Certifications section at the top of the page, just below the contact information.
Some certifications do not need to be included in the first sections of your resume but can be added in a cover letter or a section near the end of the document. These include the certifications you have been awarded for participating in free online courses such as Hubspot, Udemy, etc., as they are available to everyone and are not a recognised professional source of knowledge.
Examples of recognised certificates
• Customer service – Service Strategies
• Marketing – AMA Professional Certified Marketer, Google Analytics
• Certified Accountant – CPA Certificate
• Certified Business Analyst – CBAP
• Management, accounting, management, finance – АССА, DipIFR, IPFM,
CIMA, CFA, СIA
• Project Management Professional Certification – PMP
Listing courses and training in resume
If you have a document about taking a course, training, or seminar, you must also give this information in a separate section of the resume. However, do not forget that this type of professional development, unlike certification, is carried out by any commercial organisation (including online), and the certificate is proof of qualification from the competent institution. Sometimes learning leads to certification, but not always.
Selection of the most popular online platforms and courses!
Hubspot – for specialists in incoming marketing, sales and customer service.
(MOOC) – Open online courses from the world's largest universities.
Alison – Thousands of courses available free of charge.
Coursera is an online platform for education, holding first place in the rating of "Time" magazine.
Lynda.com is a private American company for online learning from the United States. Specialises in computer programs, particularly for graphic editors.
Skillshare is a tool for those who want to sell online courses.
Udemy – courses from teachers with practical experience in business, management, finance and technology.
EdX – is a Harvard University project offering online training in 24 different areas.
Awards and recognitions
Awards and distinctions can be received from professional organisations, employers or specialised publications. It is better to list them in a separate section of the resume.
For example:
"Top Manager of the Year by Forbes"
or:
Member of the list of "Top-10 Recommended Lawyers according to the Who's Who Legal" publishing house.
or:
"Award for Outstanding Achievement in PR and Advertising of Project N"
General advice
Record each certification, course or training in reverse chronological order, starting with your current or most recent learning event .
Do not include certificates/trainings/courses that are not relevant to your work. If you think that they are not directly related but can help in employment, include them in other sections, for example, «About yourself» (we have an article about this section).
Any abbreviations must be written in full, at least once, so that they can be understood by recruiters who are not specialists in your field. It is also necessary for registration in the Candidate Tracking System (ATS), which many companies use in the recruitment process.
Use keywords: Use keywords and phrases relevant to the job you are applying for. This can help your resume stand out and improve your chances of getting noticed by recruiters and hiring managers.
An acceptable certification format should take into account the following structure:
Name of award/licence/membership/course
Name of the certifying authority (if any)
Dates and duration received (if applicable)
Location (if necessary)
If you are taking the course or have not yet fulfilled the requirements for obtaining an official document, you can simply add a note «in the process» and specify the expected completion date.
Mistakes
Basically, the only certificates that are of interest to the employer are those that you have received in the last five years. The inclusion of irrelevant or obsolete certificates does not enhance your resume.
The use of expired certificates in the CV is not acceptable. If you have an expired certificate or licence, make sure you renew the certificate before including it in your resume.
Key ideas
Remember these point:
Only relevant certificates and diplomas
Reverse chronological order, all names complete
Information at the top, if the profession requires it
Separate section of your resume
How to fill in the rest of your resume – read the detailed guide