According to the international website for finding a job indeed.com,
"… when you include job-specific information in your resume, the recruiter is more likely to dig deeper and learn more about your professional experience".
Therefore, try to extract information related to the post you are applying for because this information will explain the purpose of the resume.
"Brief Information" might also include the headings "Desired position" and "Career Goals", but Not "About yourself". We have a separate guide for that.
In this article you will learn:
What to write in the "Brief Information" column in the resume
Examples of brief Information in the resume
When you should include professional goals in your resume
The purpose of the applicant's resume
What to write in the "Desired Position" column
Tips for getting the best fit for the job
Why do you need a Brief Information summary in your resume?
The simple answer is that it will help you get noticed more quickly. HR managers often have to read dozens of resumes every day. On average, they only give each resume six seconds of their time. A professional section with Brief Information is what will catch their attention from the very beginning.
And if it's well written, it'll make them read the rest of the resume. The Brief Information section is usually posted at the top of the resume, immediately under name and contact details. There may be a review of short-term goals, professional achievements and sometimes an explanation of why you need a job.
Five tips for Brief Information
Add Brief Information last. It becomes much easier when you have already filled in the other sections of your resume. All you have to do is pick the most impressive facts and statistics.
The first section of the resume can describe your professional level. Don't forget to add years of experience. You can also highlight the key points of the section in bold.
Select the three or four most impressive parts of your resume and paraphrase them in short paragraphs. Have you received the Best Customer Service Award? Did you meet 95% of your sales targets five years in a row? These facts deserve to be mentioned at the top of your
resume!
Translate each achievement into figures. Each Brief Information item must contain at least one fragment of quantitative data. Use interest figures or sales results. This gives a better idea of how you did your previous job.
Make sure you adapt the section to a particular vacancy. Read its
description carefully and find the most important keywords. Use them in Brief Information, Job Purpose and Desired Position.
Tip: According to Jobscan research, 98% of large Fortune 500 companies use ATS; your resume will probably be read (and its value determined) by a bot in the first place. Therefore, it is so important to adapt at least the first section to the keywords from the job description.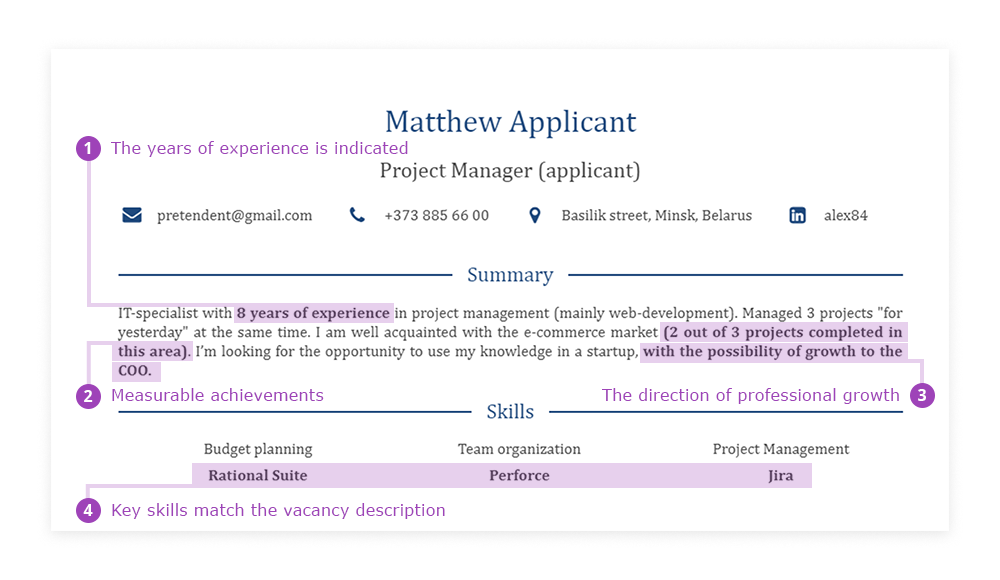 Examples of a Brief Information section in a resume
Project Manager: "IT manager with 8 years of experience in project
management (mainly web development). Managed 3 projects at the same time against tight deadlines. Familiar with the e-commerce market. I am looking for an opportunity to use my knowledge in a startup, with a view to eventually rising to be a chief operating officer. "
Sales Director: "10 years of experience in sales and management. Increased the profits of the department under my leadership by 25% through the employee loyalty and sales promotion programs I developed. I mentored two young teams that achieved sales 7% higher than the national average."
Wrong:

"For a long time, I've worked in the field of financial analysis. I'm, looking for a job in an organisation that is more successful and better known than my previous employers. I'm not good at communicating with people, and I'm good at solving conflicts. Very well qualified to make sustainable changes to your company".
This example is weak because it's too vague and poorly structured. The statement is general and a little awkward. There is no evidence that the candidate has studied the employer's organisation and there is nothing unique that could not have been described in detail elsewhere in the summary.
Right:

"Financial analyst with 7 years of experience. Professional focus on structuring cash flows. I have a CFA certificate, and in 2020, was named by «Financial Consultant» as one of the twenty best professionals in the field of financial analysis".
This example is strong because it is short but interesting. It refers to the significant career advancement of the candidate and how this relates to the potential employer. It shows the breadth of experience, without ambiguity, and is consistent with recommended career goals.
…However, not all candidates can add professional information to the CV. That being the case, who is this section for?
The Brief Information section is most easily completed by experienced applicants who have remained in the same job for several years or have played several roles in the same industry. Specific past achievements and skills can be highlighted quickly and briefly, but it takes time to acquire them.
If you are a student or graduate at the beginning of your career, you have yet to gain professional experience. Or maybe you're a young specialist who wants to change careers but doesn't have the relevant experience in the field you want to move on to? In this case, you can name the section "Purpose of the Summary". Instead of describing previous experiences, it will highlight your skills and motivation.

A couple more examples from our resume builder

When should you write a goal on your resume?
A goal on a resume is a great way to stand out regardless of your professional level or experience. However, there are life situations where targeting is especially useful:
You are new to the job market. If you are a newbie with little or no experience and are entering the job market for the first time, your goal helps the hiring manager understand if your career plans are in line with the open position.
When changing careers. The goal will help explain why you are a good fit for the job, even if you don't have a lot of experience. If your career experience is outside the industry you want to work in, objective or personal goals can clarify your intentions.
If you move to another city. If you're planning a move, your current address can confuse the hiring manager. By marking your plans in the resume target, you can avoid filtering by place of residence.
What to write in the Job Purpose (Goals/Objectives) column in a
resume?
The most effective goal is one that matches the job you are applying for.
What are the objectives of a job application? What are the goals to indicate on the resume for employment?
In the goal, you can specify some of your past achievements and then go to the results you hope to achieve in the future (ideally for the company you're applying to).
How many goals do you want on your resume?
No more than one or two. The main thing to remember is that too universal a goal can show an employer that you don't know exactly what you want to do. A very narrow goal, on the other hand, deprives you of the opportunity to occupy other positions in the company that might interest you.
Here are some tips on what to write your Goals/Objectives in a resume:
Be Specific: Your Job Purpose statement should be specific and targeted to the position you are applying for. Avoid generic statements that can be applied to any job. For example, if you're applying for a marketing position, your objective might be to increase brand awareness and drive sales through targeted marketing campaigns.

Focus on the Company's Needs: Your Job Purpose statement should demonstrate how your skills and experience can meet the needs of the company. Research the company's goals and objectives and tailor your statement to show how you can contribute to their success.

Be Measurable: Your Job Purpose statement should be measurable so that you can track your progress and success. For example, if your goal is to increase sales, you could set a specific target and timeframe for achieving that goal.

Be Relevant: Your Job Purpose statement should be relevant to the position you are applying for and should align with your career aspirations. Avoid including goals that are not relevant to the job or that do not align with your long-term career goals.
What can you write in the Job Purpose section (Goals/Objectives)
of the resume? (example)
Programmer:
"Start a junior PHP developer career in X company and after 5 years grow to timlid. I have one year of experience as a web developer on Javascript/HTML/CSS. I also have experience in graphics packages such as Photoshop, CorelDraw".
Being honest about your ambitions is mutually beneficial for you and your future employer. Not only do you avoid potentially awkward conversations with future colleagues, but you also show employers which roles are more appropriate for you with individual opportunities for learning, development and mentoring.
Desired position in resume
Some HR professionals maintain that the Desired Position section in the resume is at best unnecessary and at worst outdated. And this is so true in those cases when you write: "Getting a managerial position." And it's so clear that you want to get a job. Any job.
To make it easier to complete this section, consider these Desired Position section examples:
Graduating/entering the labour market for the first time:
"Looking for entry-level positions as a business analyst or in consulting. My graduate practice as a financial controller has allowed me to develop a logical approach to tasks, software skills and the ability to work under pressure".
Career or industry change:
"I am a certified human resources specialist, ready to use 10 years of experience to develop digital marketing. Excellent communication skills and ability to adapt quickly to changes. Looking for a job in a digital company, preferably in the service sector".
Moving to a new geographical area:
"JS developer, I am moving to PHM in Manchester. Therefore, I am looking for work, preferably in a small team/ in a fast- growing startup. Experience in JS 6s, before that, worked on full stack. General experience – 10 years. My long term ambition is to work as a product architect".
What to write in the Desired Post section of the resume if you are looking for progress in the industry:
"Sales Manager with 8 years of experience in the automotive industry. I'm looking for an opportunity to apply team management skills as head of sales at a car dealership".
Although the Job Purpose of the resume is only one or two sentences, make sure that it shows why you are applying for a job, what values you offer and why a hiring manager should be interested in getting to know you better. By drawing up a convincing objective formulation, you can help employers remember you. That's one more important step towards getting a new job.

How to quickly fill the first section of the resume?
Try our perfect resume template with tips. You can download the free resume right now.
When completing the first section, think about your "elevator pitch". This is when you step into the elevator and see the hiring manager holding the keys to your dream job. How would you sell yourself on that 30-second elevator ride?
Think about strengths, experiences and accomplishments that are uniquely yours, and write each one down as you brainstorm. Using a job posting, determine how much value you can bring to the company.
The following criteria will help you quickly identify your advantages:
Work history: Think about common themes in your story. Look for patterns in your culture, company size, and your role.
Skills: What skills do you possess? Which ones are most applicable to a coveted job?
"The first thing I'm looking for is professional skills that fit the job description", said corporate recruiter Jobscan.
Achievements: What have been your most impressive accomplishments in your past jobs? Find ways to quantify these gains using metrics such as years, percentages, and monetary value.
After gathering information from the job description and your resume, you can create the first section. Use active verbs, action words and related keywords. Save space by keeping a section under five lines.
When you're done, read your rundown from the tough hiring manager's perspective, asking, "Why should we hire you?"
What shouldn't you write in the first section of your resume?
Wrong:

"Any job", "I will consider all offers", "I am a student", "The position does not matter".
Don't list all the positions that come into your head. A resume titled "Secretary, Executive Assistant, Promoter, Store Clerk" clearly indicates that the job seeker does not yet know what kind of work s/he needs (and whether s/he needs it at all).
Wrong:

"I am looking for an interesting job with career prospects".
This is a cliche that exasperates even the most patient of HR managers. Want to share your plans for the future? State a solid goal, such as "Looking for a sales manager job with the potential to rise to be a regional representative within a year."

Common mistakes
There are several common mistakes that job seekers can make:
1)Using the same purpose for every job application
Wrong:

"Get a job in … an area that challenges and leverages my education, skills and past experience in a way that is mutually beneficial for me and my employer, and for future growth and development".
Your goal is to be the perfect candidate, meaning that you are exactly what the hiring manager is looking for. And unless you send your resume to the only biscuit factory in town, then we guarantee you 100% that one resume doesn't work for everyone.
Next!
2)Everything about me
This is a trap that many job seekers fall into as they cannot resist making a list of all the things they want from the job.
Wrong:

"Hi, I'm Ivan looking for a job, and I really want to work at a company where I can make a lot of money doing as little as possible. Oh, and an office with a view of the sea. The company car will do, too. Before you go, let's talk about benefits, retirement … and company holiday policy".
Yes, we disagree, but we need you to look at this and laugh… because even the mild form of what we're talking about looks as ridiculous to an employment manager as this bloated example.
Next!
3) Too vague
Error number three is lack of clarity. As we have said, one resume format does not suit everyone, so writing ambiguously in the hope of partly matching what employers are looking for will result in your resume being sent directly to a cyclic file. (In case you don't know, it's a trash can. It sounds funny, but the end result is the same … no job.)
Wrong:

"I'm looking for a full-time, long-term job where I can apply my extensive skills and knowledge to the job I've been hired for".
Having read this statement, we know that the applicant has skills and knowledge … and everything. What skills does s/he have? Do they really match the vacancy? And what kind of expertise can a candidate apply to something that will benefit the company? See what we mean?
Next!
4) Furthermore… and additionally… and on top of that… and then I… and after that…and snooze!
Error number four is writing an autobiography. A resume is not a novel. It's a little self-promotion to get attention, to get invited to an interview, so that you can give more information!
Let's not give an example here. Why? Because it will be so long that everyone who reads it will get bored and move on to another article.
5) Addition of absolutely no value
Error number five is probably the worst … and the easiest to make (except for error number two – the statement "everything about me"). Error number five is filling in the bulk of the resume without saying anything about the value you bring to the company. This error usually overlaps with error number 3, too.
Wrong:

"Get a position in my chosen field, where I can use my skills as a hard-working, well-educated employee in exchange for a stable market salary".
Conclusions
Ultimately, it is not necessary to indicate the position, purpose or skills at the beginning of the resume, but this section can convince employers that you know what you want and know the industry.
Use the Brief Information section in CV2you designer to quickly and conveniently describe your career goals. Note that there is a different design template in the form of spheres for key competencies.
Take a look, too, at the "About Yourself" section: What to write in the resume?